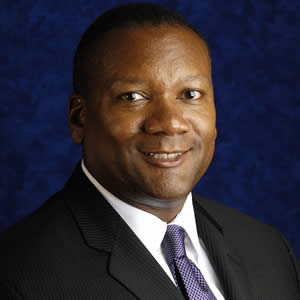 William A. Davis (PHOTO SUPPLIED)
University Park, IL-(ENEWSPF)- Governors State University has appointed William A. Davis, of Bolingbrook, as Interim Vice President of Development. Davis will be in charge of strategic oversight for philanthropic initiatives, as well as corporate and individual giving on behalf of the university. The appointment became effective in January.
Davis, who will serve on Governors State President Elaine P. Maimon's cabinet, has also been named Interim CEO of the GSU Foundation, the university's fundraising arm. Davis said he plans to strategize GSU's brand to engage alumni, individual donors, foundations, and corporations to invest in "the university's renaissance."
Davis has been at GSU since April, 2012, and was formerly Director of Corporate and Foundation Relations. He believes GSU has great potential for making a systemic impact in not only the Chicago Southland, but throughout Illinois and today's global society.
Under Davis's leadership, the university's development efforts have included expanding corporate partnerships, internal and external constituent management, and new initiatives by the GSU Foundation. Last year's Campus Community Campaign, under his direction, broke records in terms of both participation and contributions.
Prior to his service at GSU, Davis served as Senior Corporate Relations Officer for the American Cancer Society, Illinois Division, from 2009 to 2012. In this role, he acted as the primary relationship manager for Chicago-based Chief Executive Officers and Executive Senior Vice Presidents at Fortune 1000 companies. He developed, retained, and strengthened corporate partnerships and professional services at the regional, divisional, and national levels.
Davis previously spent 11 years with GlaxoSmithKline Pharmaceutical Company, where he served as National Sales Trainer for multi-billion brands. He served five years on the company's National Diversity Initiative Team, where he initiated a nationwide training model for diversity education and helped develop a strategy to establish a diverse workforce as a business imperative.
Davis has a BA in Psychology from Mount Union College, Alliance, Ohio; a Master of Science from DePaul University School of Public Service in Chicago; and a certificate in Project Management from DePaul University.
For further information on giving and philanthropic opportunities at Governors State University, contact Myisha Meeks in the Office of Development at (708) 534-4105.
Governors State University, the only public university in the Chicago Southland region, serves more than 7,000 students in undergraduate, graduate, doctoral, and certificate programs. GSU has the most affordable undergraduate tuition in Illinois and is nationally recognized for its innovative Dual Degree Program, providing a quality, seamless pathway from community college to university graduation. In 2014, GSU will become a full-service, four-year university, admitting its first freshman class and introducing apartment and suite style housing.
Governors State University is located at 1 University Parkway, University Park, Illinois.