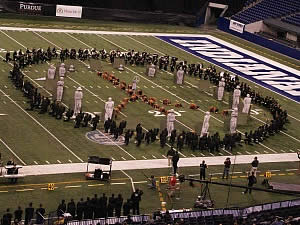 The Marian Band captured fifth at the BOA Grand Nationals on Saturday in Indianapolis. (PHOTO SUPPLIED)
Spartan Band second in Class AA, wins Outstanding Visual
Indianapolis, IN-(ENEWSPF)- The Marian Catholic High School Marching Band, one of only 12 schools in the nation to reach the finals of the Bands of America Grand Nationals this weekend, captured 5th Place overall with a 92.9 score on Saturday night at the Lucas Oil Dome in Indianapolis.
Marian also earned second place in Class AA at BOA Grand Nationals, while garnering first place in AA for Outstanding Visual Performance.
The band's competitive show is called "My Brother's Keeper," a marching band commentary on man's inhumanity to man. The show is a commentary on war, slavery and genocide, but is even more a plea for peace.
The Marian Band also won its 33rd consecutive Illinois Marching Band state championship in Class on Oct. 27 at Illinois State University, as well as winning its fourth straight overall Grand Championship at ISU and 12th overall. Marian recently captured third place in the BOA Regionals at Indianapolis, including a first place in Class AA.
Making its record 29th appearance in the BOA Grand Nationals, the Marian Band has won a record seven Grand National Championships, the last coming in 2000. The Spartan Band was the lone Catholic band among the 12 Finals qualifiers, as well as the lone representative from Illinois.