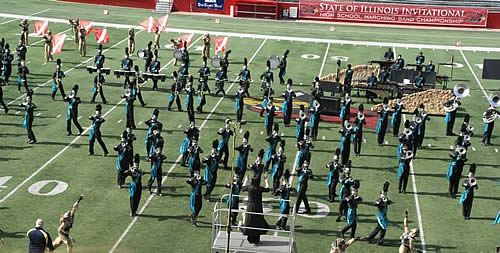 The Marian Catholic Band performs at ISU. (PHOTO SUPPLIED)
Chicago Heights, IL-(ENEWSPF)- The Marian Catholic Band took home their 35th State Championship on Saturday, October 11, in Hancock Stadium at Illinois State University and then followed up with a 1st place finish at the Lincoln-Way Invitational on October 18th. The band won their class 3A in prelims and went on to finals where they won with top honors finishing in first place from the field of 40 bands at Illinois State. The Lincoln-Way Invitational featured 21 bands competing at Lincoln-Way Central High School. Marian once again came away as Grand Champions winning awards for Best Music, Best Visual, Best Auxiliary (Color Guard), and Best General Effect (show design).
"We are very proud of the students' performances thus far," said Greg Bimm, MCHS Band Director. "Even though Illinois State was very early in or season, the kids rose to the occasion and had two solid performances. They have prepared well and have positioned themselves for great success!"
The MCHS Band implements student leadership within the program. This method has proven extremely fruitful. It creates an atmosphere in which students take even more ownership of their accomplishments because everyone is a significant part of reaching success.
The next big challenge the Marian Catholic Marching Band is preparing for is the Regionals and then Grand Nationals. There will be ninety-two bands from across the United States in Indianapolis vying for a spot in the top twelve and a chance at the overall Championship.
"We are in very good shape. The students have in many ways surpassed expectations. The field of bands from across the country continues to get stronger and the best bands from states like California, Texas, Oklahoma, Georgia, Florida, Indiana and Ohio will be there, so we need to be very well prepared. The kids are well on their way to have a very strong program, so we should do well," said Bimm.
The Marian Catholic Band program has a reputation as one of the most outstanding marching bands in the United States. Over the past 20 years the bands have earned hundreds of awards and honors. The Marian Catholic Band's educational and leadership philosophies have been used as models for band programs in nearly every state of the union.