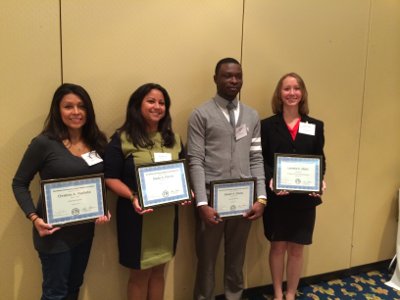 CHICAGO HEIGHTS–(ENEWSPF)–October 31, 2014. Two Prairie State College (PSC) students recently were recognized at the annual Teaching and Learning Excellence Conference sponsored by the Illinois Community College Faculty Association, the Illinois Community College Board and the Illinois Community College Trustees Association.
Joseph Owusu of Steger and Sheila Porrata of Sauk Village each received $1000 scholarships during the Oct. 23 and 24 conference held at the Crowne Plaza Hotel in Springfield.
Each year, the Illinois Community College Faculty Association awards scholarships to deserving students currently enrolled in an Illinois community college. Students are selected for the scholarships based on their record of academic achievement and volunteer community service.
"We are very proud of these students' accomplishments, and congratulate them on receiving these scholarship awards," said PSC President Dr. Terri L. Winfree.
Source: prairiestate.edu