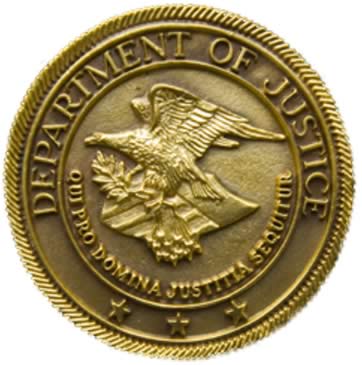 Washington, D.C.-(ENEWSPF)- The United States has secured a judgment in a civil action seeking the forfeiture of $396,589 associated with a United Arab Emirates-based company, Royal Pearls General Trading, that allegedly engaged in money laundering and other illegal business dealings involving a company in Iran, announced U.S. Attorney Jessie K. Liu and Sean M. Cox, Special Agent in Charge of the FBI's Springfield, Illinois Field Office.
            The judgment was entered on Oct. 4, 2018 by Judge Reggie B. Walton in a lawsuit filed in March 2017 by the U.S. Attorney's Office for the District of Columbia. In its complaint, the United States alleged that Royal Pearls General Trading (Royal Pearls) and its co-conspirators engaged in a scheme to illegally export specialized petroleum parts to end users in Iran, in violation of U.S. laws.
            According to the complaint and pleadings in the case, the Chief Executive Officer of Royal Pearls is Iranian national Kambiz Rostamian, who is also the CEO of the Iranian company MKS International Group.  The pleadings alleged that the products Royal Pearls attempted to procure with the forfeited funds — highly specialized pieces of equipment used by large-scale petroleum operations — were intended for an Iranian subsidiary of MKS International.
            These transactions would have required a license from the Department of Treasury's Office of Foreign Assets Control (OFAC).  The international wiring of U.S. dollars into the United States to promote this sale violated U.S. money laundering laws.  OFAC designated Royal Pearls in February 2017 for acting on behalf of MKS International. According to the designation, MKS has procured components for Iran's ballistic missile program.
            The complaint alleged that Royal Pearls laundered $396,589 in 2014 and 2015 to a U.S. company, through an intermediary company that was acting on behalf of Royal Pearls, in an attempt to procure the specialized equipment. The pleadings highlight multiple indications that Royal Pearls was a shell company operating on behalf of MKS International.  For example, the complaint notes that the registration information of one of the Royal Pearls websites indicates that its address was "4th Floor, N014 Tehran, Tehran, IR 19937, Dubai, AE 1116," which appears to be an Iranian address falsely made to look like an address in the United Arab Emirates.  The pleadings also state that a MKS International subsidiary in Iran indicated that it was selling items similar to those Royal Pearls attempted to illegally procure with the forfeited funds. 
            "The judgment in this case shows there will be consequences for those who scheme to violate our nation's export laws," said U.S. Attorney Liu. "Working with our law enforcement partners, we will use every tool at our disposal to enforce these laws and protect our nation's security."
            "This case is an outstanding example of how law enforcement works throughout the United States to bring justice against a foreign business operation that violates our nation's export laws," said Special Agent in Charge Cox.
            The lawsuit, filed in the U.S. District Court for the District of Columbia, is captioned United States of America v. $396,589 In U.S. Funds Associated With Royal Pearls General Trading.
            This case has been investigated by the FBI's Springfield, Ill. Field Office. Assistance has been provided by the U.S. Department of Commerce, Bureau of Industry and Security. Assistant U.S. Attorneys Zia M. Faruqui, Brian P. Hudak, and Ari B. Redbord, former Special Assistant U.S. Attorney Kyle Bateman, and Paralegal Specialist Toni Anne Donato, all from the U.S. Attorney's Office for the District of Columbia, represented the government.
This story is from a statement by the United States Department of Justice.