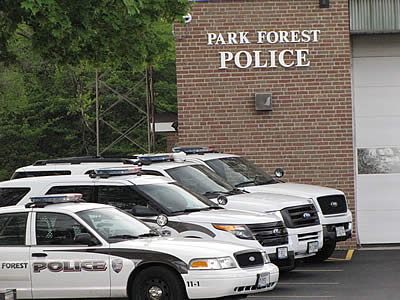 Park Forest, IL—(ENEWSPF)—Editor's Note: We continue our reporting on news from police blotter reports. Besides covering the many stories from around Park Forest that otherwise might go unnoticed, we want to bring more complete coverage of police reports than is reported by other local media.
An arrest does not mean that a person is guilty. All those arrested are presumed innocent until proven guilty. It is the policy of eNews Park Forest to not remove items in the public record from publication. If your name is listed in the police reports, we will only add information relevant to the final disposition of the case at hand, e.g. "Mr. Smith was subsequently acquitted," "Mr. Smith entered a guilty plea," or "All charges against Mr. Smith were subsequently dropped." We will do so upon receiving and verifying proof of such disposition.
Persons wishing to leave anonymous information on any criminal matters including narcotics or gang activity are encouraged to call the Park Forest Police Department Investigations Division at (708) 748-1309.
Jarred E. Mason, 37, 16445 Louis Ave., South Holland, was charged with driving under the influence of alcohol, operating a vehicle without valid insurance, and battery following a domestic disturbance September 4 in the 500 block of Antietam Street, police said.
A resident reported to police that her charcoal grill was stolen sometime between August 29 and September 5 from her residence in the 100 block of Sycamore Drive.
Rick L. Thompson, 336 Blackhawk Dr., Park Forest, was charged with assault and obstruction following a disturbance September 7 at Country Squire, 108 S. Orchard Drive, police said. According to a police report, a man got into a verbal altercation and allegedly threatened a store employee. Also, when questioned by police about the matter, the suspect allegedly gave a false identity.
Police reported a burglary September 9 to a residence in the 400 block of Wiltshire St. According to a report, the homeowners arrived home to find signs of forced entry. Light fixtures, a thermostat and a carbon monoxide detector all were damaged. Nothing else was reported stolen.