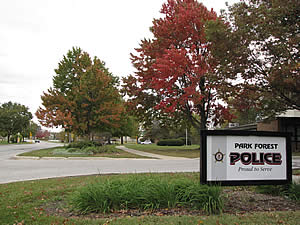 Fall at the Park Forest Police Station. (Photo: Gary Kopycinski)
Park Forest, IL–(ENEWSPF)–Editor's Note: We continue our reporting on news from police reports. Besides covering the many stories from around Park Forest that otherwise might go unnoticed, we want to bring more complete coverage of police reports than is reported by other local media.
An arrest does not mean that a person is guilty. All those arrested are presumed innocent until proven guilty. It is the policy of eNews Park Forest to not remove items in the public record from publication. If your name is listed in the police reports, we will only add information relevant to the final disposition of the case at hand, e.g. "Mr. Smith was subsequently acquitted," "Mr. Smith entered a guilty plea," or "All charges against Mr. Smith were subsequently dropped." We will do so upon receiving and verifying proof of such disposition.
Persons wishing to leave anonymous information on any criminal matters including narcotics or gang activity are encouraged to call 708-748-1309 and leave a message on Detective Beilke's voice mail.
The rear window of a vehicle parked in the first block of Elm Street was reported shattered on January 18.
A juvenile was issued municipal citations charging possession of tobacco and resisting/obstructing a peace officer when an officer on patrol at the intersection of Lakewood Boulevard and Westwood Drive was monitoring school dismissal from Rich East High School.
A juvenile was issued a municipal citation charging disorderly conduct when an officer working at Rich East High School was advised to assist with a combative student.
Terry L. Lavender, 45, 10930 S. Peoria St., Chicago, was arrested on January 19 and charged with felony driving while license was revoked and issued traffic citations charging no rear registration plate light and failure to wear a safety belt when an officer on patrol in the area of Western Avenue and 26th Street observed that the vehicle Lavender was driving did not have a rear registration plate light, according to police. Police say when the officer requested a copy of the driver's license and proof of insurance, Lavender presented the officer with an Illinois ID card, at which point police discovered that Lavender had a revoked Illinois driver's license.
Police responded to Indiana Elementary School on January 20 at 1:49 AM to investigate a burglar alarm. Police discovered that an exterior door was slightly open. The door had pry marks in the middle of the door near the lock. Police also observed that an interior door leading from the hallway into the school computer lab was damaged and it appeared that the glass window portion of the door had been struck with a blunt object. The glass sustained damage, though entry was not made into the room. Police are investigating.
A 42-inch Vioree LED television valued at $1000 and a 50-inch Vizio Smart television valued at $1500 were reported stolen from a residence in the 100 block of Marquette Street on January 20.
Three counterfeit $20 bills were discovered to have been received by a business owner in the first block of South Orchard Drive on January 21.
Three fraudulent checks were discovered to have been cashed against a business account on January 21. Police are investigating.
Elizabeth M. Hilson, 36, 41 McCarthy Road,  Park Forest, was arrested on January 22 and charged with retail theft when an officer was dispatched to a business in the first block of South Orchard Drive in reference to a report of retail theft. Police say Hilson entered the business, walked into the liquor aisle and took a six pack of Miller Light bottles, walked out past all points of sale without paying for the beer. Police say Hilson was stopped outside by the store manager, and had already opened one of the bottles and began to drink from it prior to being stopped by the manager. Police say Hilson appeared to be intoxicated and was swaying back and forth.
A juvenile was taken into custody on January 22 and processed and charged with theft when police were dispatched to the 3300 block of Western Avenue to investigate a domestic dispute.
A Craftsman three-ton SUV carjack was reported stolen from a residence in the first block of Forest Wood Lane on January 23.