More photographs added here, July 22, 2012, 12:12 a.m.
Park Forest, IL-(ENEWSPF)- Park Forest welcomed home a warrior on Saturday, July 21, 2012. Returning from Afghanistan, Corporal Kalvin Cheeks, USMC, was treated to an honor guard welcome and an escort by Park Forest Police and Fire Departments along Western Avenue to the Park Forest American Legion Post 1198 for a "Welcome Home" reception by members of the community.
Cpl. Cheeks family brought him directly from his flight to the parking lot of Trinity Lutheran Church on Western Avenue where he was greeted by two ranks of citizens forming an honor guard, holding American flags.
A 2008 graduate of Rich East High School in Park Forest, Cpl. Cheeks joined the Marines in January 2009. He is a Comm Tech assigned to the 2nd Battalion, 9th Marine Unit 6 H & S Company. He returned from a tour in the Helmand Province of Afghanistan.
Cpl. Cheeks has one-and-a-half more years of service. He will be stationed at Camp Le June, North Carolina.
"The 2/9 is assembled only during war time and is one of two battalions that are awardd the French Forage," his family said in a statement prepared for the event.
Cpl. Cheeks is the son of William and Heather Cheeks of Park Forest. He has two brothers, Maurice, the oldest, and Jason is the middle brother.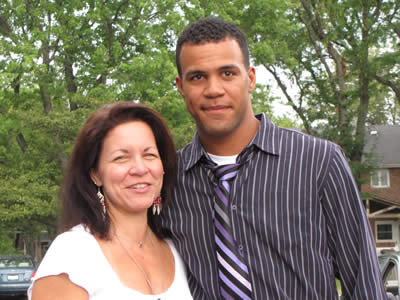 Cpl. Kalvin Cheeks with mother Heather Cheeks. (Photo: ENEWSPF)
More photographs added here, July 22, 2012, 12:12 a.m.
Erratum: The Park Forest American Legion Post 1198 was incorrectly identified when this article was originally published. We regret the error. (ENEWSPF – 07-24-2012).