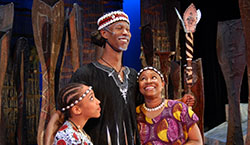 University Park, IL–(ENEWSPF)–October 18, 2016 – Two daughters; one chance to marry the King. What does a father do? Does he choose one and forsake the other? Not in this tale of goodness, generosity, and love! John Steptoe's Mufaro's Beautiful Daughters: An African Tale celebrates the beauty in all of us, with traditional dancing, rhythmic drumming, and glorious African song.
GSU's Center for Performing Arts presents Dallas Children's Theatre's family musical program on November 13 at 2 p.m. for one performance only. The play has been adapted for the stage by Karen Abbott with music & lyrics by S-Ankh Rasa.
When a great African king desires a wife, only the most perfect maidens in the land are invited to meet him. Mufaro's pride and joy, his two daughters of very different dispositions, travel a half day's journey through a mystical jungle and across a deep river to be presented to the king. Along the way the two girls encounter a number of mysterious situations that test their courage, kindness and strength of spirit. Don't miss this this Caldecott Award-winning Cinderella tale!
Ticketholders may join us after the performance for a royal wedding event including lunch & dessert, dancing and drumming, games and more!
For Tickets and Information
Tickets: $18 adults, $13 children under 16
$10 additional per person for the royal wedding event
Online: CenterTickets.net
By Phone: 708-235-2222
In Person at the Box Office: 1 University Parkway, University Park, IL
Box Office Hours: Monday- Friday 10 a.m. to 4 p.m. (open to 6 p.m. on Thursdays) & 2 hours prior to all performances
Parking is free. For best GPS directions always use the location search term "Governors State University" only.
This presentation is supported by the Arts Midwest Touring Fund, a program of Arts Midwest that is funded by the National Endowment for the Arts,  with additional contributions from Illinois Arts Council, the Crane Group, and General Mills Foundation. Additional funding is provided by First Midwest Bank.
Source: http://govst.edu