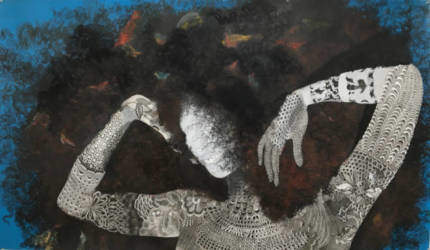 Vessel of Genealogies, 2016 (Courtesy of the Artist and Gallery Wendy Norris)
Artists offer Dominican and Vietnamese perspectives in spring exhibitions
CHICAGO —(ENEWSPF)–April 10, 2017.  Caribbean and Asian influences will be on display at the DePaul Art Museum this spring with Miami artist Firelei Báez and Chicago artist Hương Ngô. The pair will provide their respective works for two exhibitions set to run from April 27 to Aug. 6 at the museum on DePaul University's Lincoln Park Campus.
Báez's exhibition, "Vessels of Genealogies," tells stories of identity, history and politics through bright colors, patterns, hairstyles and textiles depicted in her large-scale paintings and tapestries, said Julie Rodrigues Widholm, the museum's director and chief curator. "Vessels of Genealogies" will be the main exhibition on the first floor of the museum.
The second exhibition will feature Ngô's new work on Vietnamese anti-colonial organizer Nguyễn Thị Minh Khai. The works were inspired by Ngô's trips to Vietnam and France, according to Widholm. "To Name It Is To See It" will touch on topics including colonialism, political activism, women's rights, surveillance, class, language and Vietnamese history.
'Vessels of Genealogies'
Organized by the Tarble Arts Center at Eastern Illinois University, "Vessels of Genealogies" is curated by Maria Elena Ortiz, the associate curator at the Pérez Art Museum in Miami.
"Visitors will be able to connect to Firelei Báez's experience as an individual who migrated to the U.S. to improve her life conditions and become an American," said Ortiz. "But at the same time they will be exposed to new strategies for identity formation experienced by people from Latin, Caribbean and African descent. I think that this is particularly important because Báez's work challenges the basic idea of how race is experienced in the U.S. — a condition defined as binary and black or white. In her work, one can appreciate that she is many cultures. She expresses the consciousness of a new generation eager to embrace their cultural prowess in terms of hybridity."
The exhibition title "Vessels of Genealogies" comes from an acrylic, graphite and ink-based painting, "Vessel of Genealogies," that features a completely tattooed female with flowing hair and is part of the exhibition coming to DePaul.
Báez was inspired to make this piece after researching West African body masks featuring Vejigantes, a folkloric Caribbean character that wears highly ornate colors in carnival celebrations, according to Ortiz. The figure is covered in patterns related to these two motifs, as her body becomes masks that connect her to her ancestors. "Here, there is certainly an impetus to express the human capacity to merge different cultures to create something new," said Ortiz.
Another important piece in the exhibit is the painting "Can I Pass? Introducing the Paper Bag to the Fan Test for the Month of July, 2011." Made of gouache, ink and graphite on panel, the painting features 30 different outlines of Báez and her different hairstyles for the month.
"I think that Báez is trying to portray the absurdities of racial categorization, how race has been "determined" by ridiculous assertions of phenotype in the U.S. and the Dominican Republic," said Ortiz. "What I find most interesting, is how this work brings forth the complexities of the U.S.-Latin identity in relation to the African-American experience. In the U.S., Latin communities experience significant discrimination, and even within their own communities there are racial hierarchies in which Afro-Latinos and indigenous cultures are often disregarded as less than their European counterparts. In this sense, Báez brings the U.S.-Latin and African-American experiences to an even field, especially when considering racism and discrimination."
The exhibition also features some of Báez's earliest work, including "Daughters of the Revolution" and "Ode to La Siréne (and to muses beyond Jean Luc Nancy's Canon)." The work "CPT Symmetry (echoing Marie Laveau's manipulations of the elusive mirror image of matter)" established Báez's career and focuses on her investigations of the tignon, a headdress that free women of color were obligated to wear in antebellum New Orleans, according to Ortiz. "These three works have rarely been exhibited in public and established Báez's role as a leading voice in her generation," she added.
'To Name It Is To See It'
From the beginning of the project Ngô wanted a title that drew connections between language and seeing, the artist said. "'To Name It Is To See It' evokes the promise of a discursive practice, identifying an injustice by name is the first step to understanding it and working towards change. At the same time, there is deception to the title because identification was a preoccupation of the colonial authorities, who, while able to identify Nguyễn Thị Minh Khai and her cohort, were continually stymied by their aliases and disguises. In their case, naming guaranteed nothing," explained Ngô.
A leader of the Indochinese Communist Party in the 1930s, Nguyễn Thị Minh Khai was killed by a French firing squad in 1941 after more than a decade of work as an anti-colonial figure and a master of disguise that featured both international espionage and national sabotage, said Ngô.
"In today's political climate in the U.S., Nguyễn Thị Minh Khai's story is incredibly important to tell." "Nguyễn Thị Minh Khai was a Vietnamese woman, organizing against the colonial French government when not only her activities were criminalized, but also when her actions and judgement were questioned within the patriarchal community of revolutionaries," said Ngô.
"Her story upends representations of Asian women as being apolitical and even passive. It also highlights the connection between the criminalization of people of color and the legitimization of oppressive surveillance policies, which, once in place, are then used on a general population. Finally, the project touches on what motivates an oppressed people to organize, raise consciousness and actively resist unjust authoritarian regimes," Ngô noted.
The exhibition features more than 25 individual pieces of art ranging from photos to video and fabrics.
"This project is not biographical or meant to construct a narrative of Nguyễn Thị Minh Khai, but rather to reveal the difficulties and even the impossibilities of her many roles," said Ngô. "There is as much in the exhibit that engages in the institutional frameworks that shape such historical narratives (such as national archives and museums) and determines what is revealed as well as what is lost as there as there is that addresses her story. Having said that, the aspects of the archives that I have highlighted reveal the difficulties of doing this kind of political work as a Vietnamese woman at this time."
The exhibition includes a letter from Nguyễn Thị Minh Khai to the other men in the movement at a time when she is both the most powerful liaison and the least powerful among their milieu, said Ngô.
"She was the highest ranking, but because she was a woman she wasn't allowed to vote," said Ngô. "The note reveals her frustration that the group does not trust her leadership and prefer their own disorganized ineffectiveness. One could easily draw parallels to the struggle that many women still feel today in achieving equality."
"At the DePaul Art Museum, we are committed to providing a platform for under-recognized artists," said Widholm. "It's very important that we present the work of female artists with diverse perspectives, and as a museum, we would like to be a leader in presenting the work of great female artists who have a perspective that isn't normally seen in mainstream museums.
"We want the exhibition program to reflect our urban environment. Chicago is a very international city, so we want artists on view to relate to different constituencies and communities throughout our campus and city," she added.
'A Matter of Conscience' and 'Stranger Things'
A pair of smaller exhibitions drawn primarily from the DePaul Art Museum collection, including selections from Chuck Thurow's 2016 gift, will also be on display during the spring exhibitions.
"A Matter of Conscience" will run from April 27 to June 18 and presents works that reflect varying artistic approaches to politically charged content and pressing social issues. Mia Lopez, DePaul Art Museum assistant curator, is curating the exhibition. Featured artists are Siah Armajani, Margaret Burroughs, Alan Cohen, Paul D'Amato, Ester Hernandez, Michael Hernandez de Luna, Max King Cap, Rudzani Nemasetoni, Betye Saar, Aram Han Sifuentes, Andy Warhol and Garry Winogrand. "Stranger Things" will follow from June 21 to Aug. 6 and includes artists who work against representational traditions in sculpture, drawing and painting to create forms that are at once familiar yet difficult to name. Widholm is curating the exhibition. Featured artists are Robert Bladen, Miriam Bloom, Alex Chitty, Chris Garofalo, Magalie Guerin, David Jackson, Paul LaMantia, Sterling Lawrence, Jim Lutes, Sandra Perlow, Richard Rezac and David Richards.
Admission is free at DePaul Art Museum, located at 935 W. Fullerton, just east of the CTA's Fullerton 'L' stop. Museum hours are Wednesdays and Thursdays from 11 a.m. to 7 p.m., Fridays from 11 a.m. to 5 p.m., and Saturdays and Sundays from noon to 5 p.m. The museum is closed Mondays and Tuesdays. For more on DePaul Art Museum's upcoming exhibitions and events, call 773-325-7506 or visit http://museums.depaul.edu/.
Source: http://depaul.edu