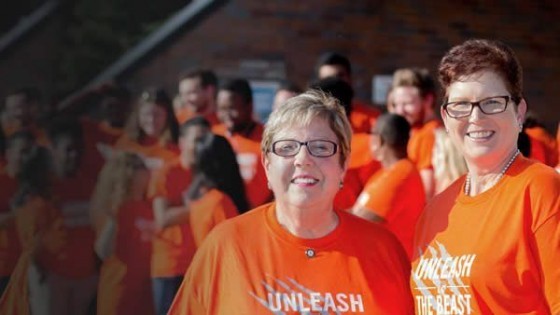 University Park, IL–(ENEWSPF)–September 12, 2017. After two years of steady enrollment–even through a historic budget crisis–Governors State University's undergraduate enrollment took a slight dip (2.88%) in its full-time equivalent enrollment (FTE).
GSU President Elaine P. Maimon described the decline as a reasonable outcome, calling the ebb a "very real consequence of the Illinois budget crisis."
"It could have been much worse, but throughout the stalemate we kept our focus on students and remained committed to our core values. We are ready to seize the opportunities that lie ahead."
A silver-lining in this fall's census report is a 1.2% increase in Hispanic student enrollment and an increase overall in minority male students of 2.9%, with the largest increase being Hispanic males at 8.4%.
GSU leadership's response to national calls to improve college completion rates for targeted audiences is paying off with enrollment gains.  Governors State University's award -winning Dual Degree Program (DDP) provides an affordable, accessible, high-quality pathway for community college students to complete an associate degree, transfer, and then complete and earn a baccalaureate degree at a four-year university. Its innovative offshoot, the DDP-Male Success Initiative, places its focus on increasing the number of minority males who graduate from college.
Highlights of GSU's fall enrollment include:
Hispanic student enrollment  up 1.17%
Male Hispanic student enrollment up 8.4%
Minority male student enrollment up 2.9%
Residential Housing is at 97% capacity
"While we are dealing with the effects of the budget crisis," said Maimon, "GSU is moving forward with confidence, continuing to put students first as we plan for resurgence."
About Governors State University
Governors State University serves approximately 5,200 undergraduate and graduate students with degree programs that prepare them for success in business, industry, healthcare, the arts, and education. As a state university, GSU is committed to providing high-quality, accessible, and responsible higher education opportunities. GSU is located 35 miles south of Chicago in University Park, IL and offers the most affordable undergraduate tuition and fees in the Southland. GSU is committed to embracing diversity and academic excellence.
Source: http://govstate.edu