Washington, DC–(ENEWSPF)–November 5, 2013. Today residents of Washington State will vote on ballot measure I-522, to determine whether food sold on supermarket shelves will be required to disclose the presence of genetically engineered (GE) ingredients. The simple premise of labeling GE food has been fueled by a growing grassroots movement demanding a right to know the ingredients in the food they consume. Opposition to the ballot measure has been propped up by a moneyed cadre of chemical and food corporations that claim labeling would confuse consumers and lead to higher prices at the check-out line.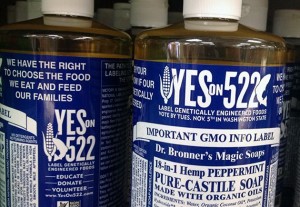 Funding behind I-522 has tracked a similar trajectory to Proposition 37 on the ballot in California last year, with food and chemical corporations pouring tens of millions of dollars into advertising against the measure in the run-up to Election Day. However, while proponents of labeling were outspent 6 to 1 in California, the gap in spending for I-522 narrowed to about 3 to 1 ($22 million to $7.8 million) in Washington State. The largest single donor on the "No" side comes from agrichemical giant Monsanto, which alone contributed over $5 million dollars in attempts to defeat the initiative. The "Yes" campaign saw a large influx of support from the organic castile soap company Dr. Bronner's Magic Soaps, which contributed $2.3 million to the campaign and even changed the label on its products to reflect support for I-522 and show how easy it is for companies to modify their label.
Prior to California's election last year, the "No" campaign was leading in the polls. Though the "Yes" campaign has, as expected from the onslaught of negative advertisements, fallen a bit in Washington State polls, the most recent survey shows the "Yes" campaign ahead but within the margin of error, and thus still too close to call.
This year, a prominent contributor to the "No" campaign, the conventional food industry's umbrella group the Grocery Manufacturer's Association (GMA), was also marred by scandal and sued by Washington State's attorney general over, interestingly, nondisclosure of the companies that are funding opposition to the measure. The attorney general's charge came after the grassroots group Moms for Labeling brought attention to the violation by filing a suit against GMA (only to have its initial lawsuit tossed out and face a countersuit).
Though large companies have had short-term success pouring money into state level campaigns, over time this strategy may backfire, and help feed public opinion that these companies have something to hide. GE labeling activists started legislative campaigns in states other than Washington and have won several high profile victories. In Connecticut, Gov. Dannel Malloy signed House Bill 6527- An Act Concerning Genetically-Engineered Food. This bill will require GE ingredients to be labeled when similar legislation is passed by other states in the New England region with an aggregate population of 20 million. The Maine legislature also passed a similar law. Whole Foods Market announced in March that within five years it would label GE ingredients sold in its stores, making it the first national chain to do so. Several other state legislatures have also introduced bills that would require GE ingredients to be labeled. In Minnesota, H.F. 850 and S.F. 821 were introduced in February of 2013 and are still being considered by the legislature. In Vermont, the House of Representatives passed H.112, a GE labeling law, on May 10. The bill is expected to be taken up by the state Senate in January when the legislature reconvenes.
Whatever the outcome of I-522, activism around GE labeling will continue to grow around the country, as a recent New York Times poll shows national support for GE labeling reaching 93%, a number consistent with past polls showing broad support that cuts across race, gender, socio-economic class and party affiliation. On the federal level, Senator Barbra Boxer (D-CA) and Representative Peter Defazio (D-OR) introduced companion legislation that would require the U.S. Food and Drug Administration to "clearly label" all GE ingredients. The bills, the Genetically Engineered Food Right-to-Know Act, H.R. 1699 and S. 809, have 22 cosponsors in the House and 10 in the Senate. On the campaign trail in 2007, President Barack Obama endorsed the idea that Americans have a right to know what's in the food they're buying, but he has yet to act on that pledge.
A victory in Washington State would set the stage for national mandatory labeling, providing consumers with information they need to make informed decisions for themselves and their family. To support Washington State's labeling efforts, help get out the vote today with the Yes on 522 campaign, and see a list of businesses, organizations, elected officials and more who endorse 522. National GE labeling efforts are being spearheaded by the Just Label It! campaign. For more information on GE foods and labeling issues, see Beyond Pesticides' Genetic Engineering website.
All unattributed positions and opinions in this piece are those of Beyond Pesticides
Sources: Politico, http://www.beyondpesticides.org
Image Source: Mother Jones