Washington, DC–(ENEWSPF)–April 18, 2014. Test results have confirmed that the charismatic mountain lion named P-22 —that frequently roams the hills of the San Gabriel Mountains surrounding Los Angeles, California— has been exposed to highly toxic rat poisons. When remote cameras in Griffith Park caught images of the puma, state park officials saw a thin mangy cat, far different from the majestic shots taken months ago by National Geographic against the Hollywood sign as a backdrop. Upon performing blood testing analysis, they found that P-22 had been exposed to anticoagulant pesticides, stoking the debate around rodenticide use, as further research suggests that these pesticide poisonings are a common occurrence.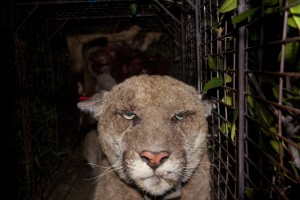 Researchers already know of the link between pesticides and mange—parasitic mites which burrow into the skin or hair follicles causing bald spots, scabbing and sore, which left untreated has contributed to the death of wild and domestic animals. Previous research by the National Park Service (NPS) has shown that bobcats that have ingested rodenticide are much more likely to suffer from mange. While the cougar has been treated with topical ointments for mange, and a dose of vitamin D with vitamin K as an antidote to the rat poisons, it is still unclear whether P-22 will fully recover. However, the event has brought media attention to the possible impacts of pest management practices on beneficial wildlife.
In late 2013, the U.S. Environmental Protection Agency (EPA) found that loose pelleted rat poison products were unnecessarily harmful to human health and the environment, taking action to pass a Notice of Intent to Cancel (NOIC) for certain products—namely d-CON. In response, manufacturer Reckitt Benckiser LLC has refused to adopt the risk mitigation measures established by EPA in 2008, and is currently also challenging EPA's decision to protect the public from these products, effectively keeping its products on the shelf until litigation is resolved.
In the meantime, California and its local municipalities have stepped in to provide preliminary restrictions on rat killers. In total, nearly 20 municipalities in California including San Francisco, Calabasas, and Malibu have pass resolutions to urge residents and businesses not to purchase or sell second generation anticoagulants. Reckitt Benckiser has met the opposition head on aggressively challenging California's rule to remove from store shelves several rodenticide products by suing the state. The manufacturers say that "new regulation will unnecessarily put Californians at an increased public health risk from rodent infestation and place a greater financial burden on families and individuals who cannot afford professional pest control services."
These assertions have already been addressed by the EPA, which stood behind research showing that low-income and minority children are disproportionately affected by these products. One study in New York found that 57 percent of children hospitalized for eating rat poison from 1990 to 1997 were African American and 26 percent were Latino. It stood to reason that taking them off the shelves and providing snap traps would provide much safer methods of rodent control.
Over the past 20 years, park service officials of the Santa Monica Mountains National Recreation Area have found widespread sublethal exposure in carnivores to rodenticides. Indeed, 88% of wildlife tested, including 140 bobcats, mountain lions, coyotes, tested positive for one or more anticoagulants. Two mountain lions have been found dead due to poisoning. Reports also show that federally listed threatened and endangered species, such as the San Joaquin kit fox and Northern spotted owl, have been adversely affected by these chemicals.
"Anti-coagulant rodenticides are designed to kill rodents by thinning the blood and preventing clotting," said urban wildlife expert at Santa Monica Mountains National Recreation Area, Seth Riley, PhD. "When people put these bait traps outside their homes or businesses, they may not realize that the poison works its way up the food chain, becoming more lethal as the dose accumulates in larger animals."
In July of 2011, the California Department of Fish and Wildlife requested California Department of Pesticide Regulation (CDPR) restrict the use of anticoagulant rodenticides due to numerous incidents involving direct and indirect poisoning of wildlife. Anticoagulants impair blood clotting and eventually cause internal bleeding in target animals. However, rodents can feed on poisoned bait multiple times before death, and as a result their carcasses may contain residues that are many times the lethal dose. Those that are not lethally exposed become lethargic and are likely to be hit by cars or develop diseases like mange.
Beyond Pesticides has responded to the irresponsible actions of Reckitt Benckiser by launching the Care About Kids campaign to urge major retailers to stop selling dangerous d-CON rodenticides. In lieu of federal action, Beyond Pesticides argues that retailers have an obligation to stop selling products that EPA has determined are too dangerous to children, pets, and wildlife.
For more information about Beyond Pesticides "Care About Kids" campaign, see our Rodenticides program page, where you can learn more about the harmful effects of these chemicals and find effective alternatives to their use.
All unattributed positions and opinions in this piece are those of Beyond Pesticides.
Sources: LA Times, http://www.beyondpesticides.org
Photo Source: LA Times