Washington, DC–(ENEWSPF)–September 10, 2013. With mounting pressure from consumers and public advocacy organizations, multinational manufacturer Procter and Gamble (P&G) announced that it will eliminate the harmful antibacterial chemical triclosan from its products by 2014. P&G's notice is the latest in a growing trend across the county, as both governments and private companies continue to move away from the use this dangerous and unnecessary substance. In August 2012, the health care and cosmetics corporation Johnson and Johnson announced its own phase out of triclosan. Minnesota Governor Mark Dayton announced in March of this year that all state-run agencies would stop purchasing products that contain triclosan. Colgate Palmolive announced in 2011 that it would reformulate many of its products to take out triclosan, but note that its mainstay Colgate Total brand toothpaste still contains the chemical.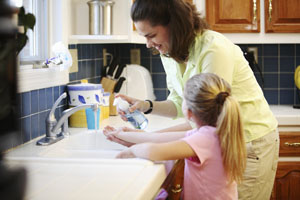 Triclosan is currently used in a wide variety of products, including hand soaps, clothing, kitchenware, deodorants, and cosmetics. P&G's website does not list the specific products from which it will be removing triclosan, instead explaining that the only remaining uses of triclosan are in the company's antibacterial dish soap, professional hand soap, and some other personal care products (P&G is the maker of brands such as Dawn and Safeguard Antibacterial Soaps). As with Johnson and Johnson's phase out, P&G publicly denies that triclosan is a cause for health concerns. However, studies continue to show a number of adverse impacts on both human and environmental health as a result triclosan's use. A study published last month reveals that triclosan alters the composition of bacterial communities in streams and can lead to bacterial resistance. Research shows that triclosan is entering aquatic environments at concerning rates, as wastewater treatment plants are unable to effectively filter out the chemical. A study from earlier this year found triclosan and many of its toxic derivatives showing up in the sediment of freshwater lakes.
Last year, researchers from the University of California at Davis (UC Davis) and the University of Colorado found that triclosan impairs muscle function in fish and mice and stated that the results they found show "strong evidence that triclosan could have effects on animal and human health at current levels of exposure." Issac Passah, Ph.D., co-author of the muscle function study and chair of the Department of Molecular Biosciences at UC Davis, spoke on the issue of triclosan at Beyond Pesticides' 31st National Pesticide Forum. You can see his presentation here.
Beyond Pesticides has provided extensive documentation of the potential human and environmental health effects of triclosan and its cousin triclocarban. Triclosan is an endocrine disruptor and has been shown to affect male and female reproductive hormones and possibly fetal development. It is also shown to alter thyroid function, and other studies have found that due to its extensive use in consumer goods, triclosan and its metabolites are present in umbilical cord blood and human milk. The U.S. Centers for Disease Control and Prevention (CDC) also found that triclosan is present in the urine of 75% of the U.S. population, with concentrations that have increased by 50% since 2004. Studies even show that triclosan can react with the chlorine in tap water to form chloroform at rates of exposure considered significant by the authors of the research.
In May 2013, the Associated Press announced that the U.S. Food and Drug Administration (FDA) will rule on the safety of triclosan this year, nearly 40 years after the product first appeared on store shelves. In 2010, the agency acknowledged that triclosan provides no additional benefit over the use of simple hand soap and water, stating that the agency was "not aware of any evidence that antibacterial washes were superior to plain soap and water for reducing transmission of or preventing infection for consumers."
The U.S. Environmental Protection Agency (EPA) is also reviewing the safety of triclosan this year. After pressure from consumer and environmental groups for its 2008 review of the chemical, the agency announced that it would review triclosan again this year, 5 years earlier than scheduled.
Beyond Pesticides, in partnership with Food and Water Watch and 78 other groups, submitted petitions to both FDA and EPA requiring that the agencies immediately halt all non-medical uses of the chemical. In the absence of government action, take care to check the label on personal care products to make sure they do not contain triclosan. You can also do your part to keep your family and community safe by joining the ban triclosan campaign, and signing the pledge to stop using triclosan today. Encourage your local schools, government agencies, and local businesses to use their buying power to go triclosan-free. Urge your municipality and workplace to adopt a model resolution that commits to not procuring or using products containing triclosan.
All unattributed positions and opinions in this piece are those of Beyond Pesticides.
Sources: examiner.com, http://www.beyondpesticides.org