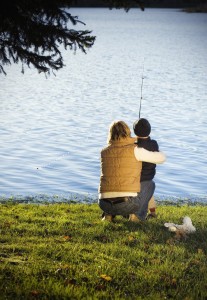 Washington, DC–(ENEWSPF)–June 18, 2012. Once again, attempts to repeal the Clean Water Act permits for pesticide discharges are underway in Congress. This week the 2012 Farm Bill will be introduced to the Senate floor where measures to attack environmental laws have been added unceremoniously to the bill, including the controversial H.R. 872, Reducing Regulatory Burdens Act, which seeks to undermine federal authority to monitor our nation's waterways for pesticide contamination, as well as eroding already lax federal oversight of genetically engineered crops.
Congress is working on the monumental process of altering and renewing the Farm Bill, S. 3240. This process only comes along every five years and has major impacts on how we grow our food. The last Farm Bill was passed in 2008, and expires in 2012. The bill is expected to be introduced on Senate floor on Tuesday, June 19. North Carolina Democratic Senator Kay Hagan and Idaho Republican Senator Mike Crapo have introduced an amendment (amendment 2367, full text available in the Congressional Record) to the Farm Bill that states pesticides should be allowed into water bodies without any oversight, leaving the public to swim, fish and boat on waters that are contaminated with endocrine disruptors, carcinogens and neurological toxicants that are not monitored by federal or state officials.
The amendment which seeks to add the provisions of H.R. 872, would reverse the 2009 ruling in National Cotton Council v. EPA, requiring Clean Water Act permits from pesticide users who spray over water (See Daily News coverage). As of this year, permits are now required for spraying activities like mosquito spraying, treatment of algal blooms or invasive species. The permit does not prevent pesticide spraying, but simply lets the authorities know what is sprayed and when it is sprayed, so that the public may know what chemicals are used in their waterways which can then be monitored for any downstream adverse effects, including contamination of drinking waters.
Take Action: Tell your Senators to Oppose the Amendments to Weaken the Clean Water Act.
Unfortunately, this amendment is receiving bipartisan support in the Senate. The measure counts among its co-sponsors six other Democrats –Claire McCaskill of Missouri, Mary Landrieu of Louisiana, Mark Pryor of Arkansas, Joe Manchin of West Virginia and Tom Carper and Chris Coons of Delaware, and three Republicans –James Risch of Idaho, Saxby Chambliss of Georgia and David Vitter of Louisiana. Sen. Mike Johanns (R-Neb.), a former Agriculture secretary appointed by President George W. Bush, who introduced a similar amendment to the Farm Bill, also supports the measure. His amendment (amendment 2210, full text available in the Congressional Record) will also alter the Clean Water Act and federal pesticide law to prohibit authorities from requiring permits for the discharge of pesticides into waterways.
There is also another provision that requires urgent attention, this one a rider included in an annual agriculture appropriations bill expected to be considered by the House Agriculture Appropriations Subcommittee on Tuesday 19. Misleadingly titled the "Farmer Assurance Provision," Section 733 of the bill would seriously undermine the Constitutional process of judicial review regarding genetically engineered (GE) crops. Specifically, the rider would force continued sales of GE product, even if a court had found that the crop had not undergone adequate review and had ordered a stop to all sales of the product. This provision undermines USDA's oversight of GE crops, unnecessarily interferes with the U.S. judicial review process, and could be unconstitutional. It is also completely unnecessary and serves only to offer "assurance" to biotech companies like Monsanto, not farmers.
There have been over 100 amendments submitted so far to the original Farm Bill. Some of these amendments, such as increased funding for research in organic production systems and reforms to make crop insurance fairer to organic farmers, are desperately needed. However, there are also other amendments, like those above, which are gaining traction that would repeal critical statutory protections for health and the environment. With the bill expected to be introduced this week, swift action is needed to ensure that these amendments do not make it into the final Farm Bill.
Beyond Pesticides supports the following Farm Bill amendments that will benefit organic food and farming:
Amendment 2234, sponsored by Senator Jon Tester (D-MT) (Full text available in the Congressional Record.) This amendment increased funding through the Agriculture and Food Research Initiative for research in conventional, non-GE, seed breeding. Conventional seeds and breed are a critical resource for farmers and for the very future of our food. As seed diversity dwindles, so does the genetic diversity of our food supply and the security of that supply along with it. The Tester amendment seeks to allocate a relatively small, but desperately needed, amount of funding to support conventional seed and breeding research at land grant universities.
Amendment 2382, sponsored by Senator Jeff Merkley (D-OR) (Full text available in the Congressional Record.) The U.S. Department of Agriculture currently charges organic farmers an unnecessary and unjustified 5% surcharge on crop insurance for organic farmers who participate in federal crop insurance programs. Additionally, organic crops are insured at the same amounts as conventional crops, despite the fact that they are often worth as much as two times the amount that a conventional crop would receive in the marketplace. This means that organic farmers are not adequately compensated if they suffer a crop loss. Senator Merkley's amendment seeks to correct organic crop insurance programs and make them work better for organic farmers.
Thus far there have been a staggering 125 pieces of legislation introduced in this Congress that will reduce environmental protection including 50 bills targeting EPA, 16 to dismantle the Clean Water Act, 31 against actions that can prevent pollution, and 22 to defund or repeal clean energy initiatives.
Take Action: Tell Your U.S. Senators to Oppose the Amendments To Weaken the Clean Water Act Before the Senate Acts the Week of June 18
Source: http://www.beyondpesticides.org