Washington, DC–(ENEWSPF)–March 8, 2013. Sugarcane and pineapple production in Hawaii is threatening aquatic life as years of atrazine applications, a pesticide regularly used for corn production too, has run off into rivers, streams, and groundwater sources.
Recent reviews by Hawaiian news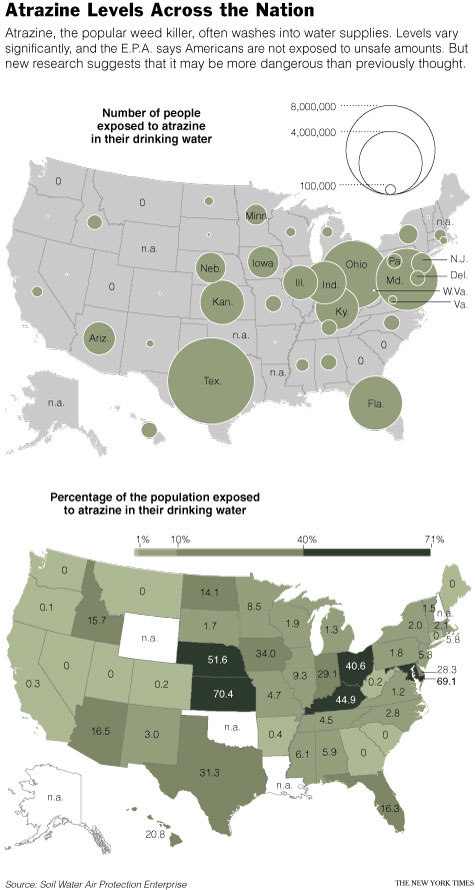 service Civil Beat found that water testing for the chemical is not tracked currently in the state of Hawaii, despite requirements by U.S. Environmental Protection Agency regulatory limits under the Clean Water Act. Instead, the Hawaii Department of Agriculture almost exclusively relies on label compliance, according to Thomas Matsuda, manager of its pesticide program. Monitoring problems have been compounded by understaffing, with only six inspectors for the state of Hawaii. Not surprising, close examination of atrazine sales records by Civil Beat indicate that the largest buyers of the chemical are Hawaiian seed corn companies Monsanto and Mycogen. Syngenta recently reached a class action settlement in City of Greeneville v. Syngenta Crop Protection, Inc., providing the Kaua'i Department of Water with $6,692.96 for atrazine clean-up expenses.
Atrazine is used nationwide to kill broadleaf and grassy weeds primarily in corn crops. A potent toxicant, atrazine is known to be associated with infertility, low birth weight, and abnormal infant development in humans. The U.S. Fish and Wildlife Service acknowledges that the chemical may harm the reproductive and endocrine systems in fish species, while the EPA acknowledges its toxicity to algae and plant life.
Clearly, there has been a major failure of the EPA to impose and enforce strong regulations on pesticides that are known to be harmful to human health and the environment. Recent reports released by the Natural Resources Defense Council indicate that one-third of waterways tested have levels of atrazine five to ten times higher than EPA limits. Likely, Hawaii has similar problems with its waterways, considering drinking water —which is indeed tested— has repeatedly been shown to be contaminated with low levels of atrazine, mostly on the Big Island, according to the Hawaii Department of Health. Notice from the image that Hawaii is ranked 10th among the states for the percentage of its population exposed to atrazine in drinking water. While levels of exposure have been below the purported safe limits allowed by EPA, researchers have warned that fetal development may be impaired at levels below the EPA standards of 3.2 parts per billion.
Similarly, low levels of exposure to atrazine are known to impact plant and aquatic life. Particularly for the island state of Hawaii, water contamination has been shown to bleach corals and harm phytoplankton, an algae and important food source to much aquatic life. In fish and amphibians, atrazine can also reduce resilience against infections, disrupt endocrine hormones and slow growth rates, according to Jason Rohr, Ph.D., a specialist in ecotoxicology at the University of South Florida.
In 2011, EPA published a petition to ban atrazine. Beyond Pesticides submitted comments last year in support of this petition in which we outline in detail the numerous reasons that this chemical is harmful and unnecessary.
The role of environmental factors on growth and development in amphibians will be a topic of discussion at the 31st National Pesticide Forum on April 5-6, 2013 at University of New Mexico in Albuquerque, NM. Conference speaker Tyrone Hayes, Ph.D., professor of Integrative Biology at the University of California, Berkeley, will discuss his research on pesticides, including atrazine, as a cause of serious deformities for amphibians. We invite you to join researchers, authors, organic business leaders, elected officials, activists, and others to discuss the latest pesticide science, policy solutions, and grassroots action. For more information, including a full speaker list please see the Forum webpage. Register now!
Sources: Civil Beat, http://www.beyondpesticides.org
Image Source: New York Times
All unattributed positions and opinions in this piece are those of Beyond Pesticides.