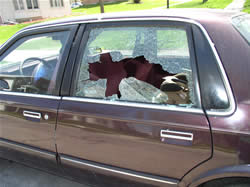 Reports Start Shortly After 3:00 a.m.
Park Forest, IL—(ENEWSPF)— Police are investigating vandalism spree that occurred early Friday morning. A total of 52 automobiles had windows shattered, apparently by a BB gun, according to police reports. Targeting mainly vehicles surrounding the five cooperatives in the village, several cars on Chestnut Street and elsewhere in town were also hit. In most cases, the driver's side window was shattered.
On Friday, April 20, an officer on street patrol noticed a 1985 Chevrolet S-10 pick up truck, a 1991 Buick Roadmaster wagon, with a damaged front driver's side window parked in the 100 block of Hemlock. The window had been damaged, possibly with a b.b. gun, according to the report.
On Chestnut, three cars were reported damaged, including a maroon Chevy parked on the street. Also, a purple Buick and a white Chevy van had windows broken. On Dogwood St., at least five cars were damaged: a '95 Ford pick up, a white over blue Dodge Ram, a Pontiac Grand Prix, a Saturn, and a Plymouth van. On Birch St., at least 6: including a Chevrolet Cavalier, a Buick Skylark, a Toyota Corolla, a Chevrolet Cavalier, a '95 Pontiac Sunfire, and a 1982 Mercedes.
On Elm Street, a Plymouth Laser was reported damaged. On Fir Street there were four reported: a Chevy Monte Carlo, an Olds station wagon, a Toyota Corolla, and a purple Pontiac. On Juniper Street, a Chevy Lumina, a Buick Lesabre, a Ford Escort, and a Toyota Camry.
On Ash Street, eleven cars were damaged as well: a Chevrolet Cavalier, a '98 Oldsmobile, a Ford 500, an Olds Ciera, an Olds Alero, a Volkswagon Jetta, a '94 Oldsmobile, a Chevy Sierra pick up, a Chevy truck, a '94 Chevrolet 1500 pick up, and a '92 Buick Century.
In addition, three cars were reported damaged on Indianwood: a silver Cadillac, a Mazda Protégé, and a Pontiac Grand Prix.
In the 100 block of Monee Rd., a white 1995 Pontiac Sunfire, a 1994 Mercury Cougar were damaged.
In the 100 block of Marquette St., a 1994 Buick Lesabre. In the 100 block of Shabbona, a 1998 Ford Econoline 250 van were damaged.
Police reports show officers being dispatched throughout the early morning hours, starting shortly after 3 a.m.
One resident on Chestnut St. commented, "We must have been lucky," since neighbors on both sides of his car had windows shot out. "They must have been reloading."