Park Forest, IL-(ENEWSPF)- A GoFundMe for Kylanee has been established by the baby's grandmother, Melissa Paganelli. Kylanee is the infant victim of alleged battery eNews Park Forest reported on previously (here and here). And her condition is still critical.
Her grandmother tells her story on the GoFundMe page:
"On Thursday, January 31, 2019, around 4 o'clock pm, my 4-month-old granddaughter Kylanee (Boookie) was left at our home, in the care of her father Juan, while my daughter (her mother) and I went to work,"
"Around 7:20 pm I received a frantic call from my daughter saying that Juan was taking Boookie to the hospital, he said they were both having an allergic reaction to something. I instantly left work to rush to the hospital and my daughter called an Uber to get her there.
"He took her to a hospital 25 minutes away from our house when there is a hospital maybe 8 minutes away," Kylanee's grandmother says.
She arrived at the hospital and says that, upon entering the ER, she saw Juan's car parked in front of the ER doors with two or three police officers shining flashlights inside.
"I went in and was placed in the serenity room to wait for my daughter to arrive. I was questioned by officers as I waited.
"When my daughter arrived 10 minutes later we were joined by the doctor who told us of Kylanee's condition upon arrival, she was in severe distress, having seizures and she had severe bruising on her chest and stomach," Kylanee's grandmother says.
Further tests showed Kylanee had blood on her brain, retinal hemorrhages, as well as bruising to her liver. The infant had to be sedated and intubated.
"Kylanee's entire family sat waiting in the ER waiting room for an update! It was clear to doctors and law enforcement that this was NOT caused by an allergic reaction," Kylanee's grandmother says.
"She was then transferred to a Children's hospital. Once transferred Kylanee continued to have frequent seizures and swelling of the brain. Detectives came and searched and took pictures of our home in hopes to find answers. These detectives worked around the clock from Thursday evening until Saturday when they came to update us on their findings," Kylanee's grandmother says.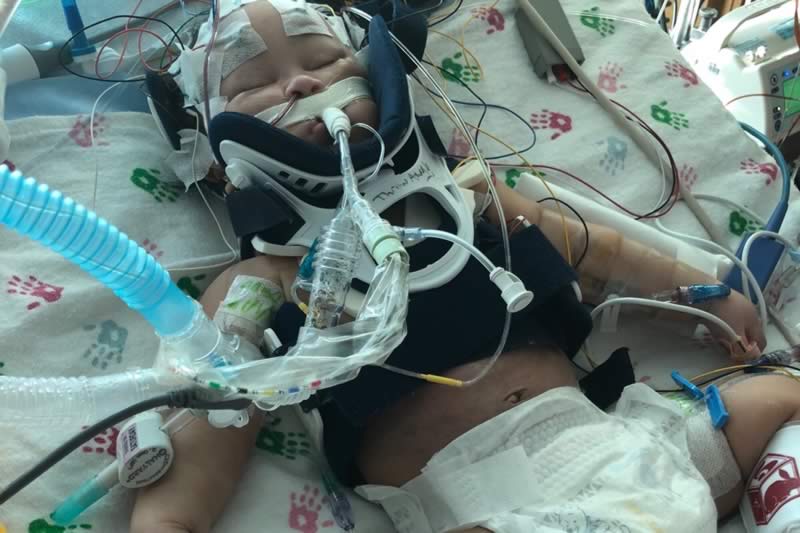 "At that point, these dedicated and invested detectives made it their personal mission to get justice for her! One Detective even asked to pray silently for her and whispered something in her ear. I later found out he made a promise to her to catch the person responsible for her pain and suffering!" Kylanee's grandmother says.
Detectives concluded that Kylanee's father allegedly caused the injuries while he was alone with her, Kylanee's grandmother says.
"She was diagnosed with shaken baby syndrome. The shaking caused swelling of the brain, subdural hematoma, and retinal hemorrhages. She also had severe bruising to her chest, butt, and liver," Kylanee's grandmother says.
"As of today, two weeks later, Kylanee's long-term prognosis is still uncertain. Her physical injuries have almost completely healed but her neurological results are not clear," Kylanee's grandmother says.