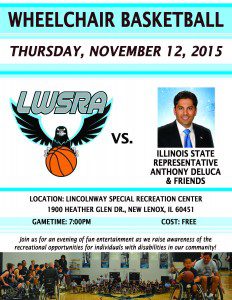 CHICAGO HEIGHTS—(ENEWSPF)—October 30, 2015. The Annual Wheel Chair Basketball Game will be held on Thursday, November 12 at the Lincolnway Special Recreation Center, 1900 Heather Glen Drive, New Lenox. The game will feature the Rolling Falcons playing against local Illinois State Representatives.
This educational yet fun event brings attention to the importance of special recreation programs while being entertaining. Everyone who has attended has enjoyed themselves and keep returning year after year.
Come out for this free evening, learn how special recreation programs benefit your community and cheer on the team.
For additional information, call Representative DeLuca's district office at 708-754-7900.
Source: State Rep. Anthony DeLuca