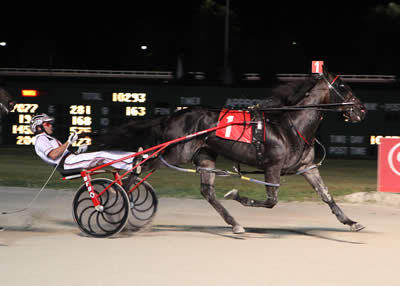 Dutch Richman continued his dominance of the state-bred set as he used the passing lane to perfection while taking an incredible final stake elimination. (PHOTO SUPPLIED)
Crete, IL-(ENEWSPF)- After a week of oppressive heat and humidity in the Chicagoland area the action on the track was just as hot as elimination's for next week's Southland Festival of Racing produced some very impressive performances from the state-bred set on a steamy Saturday night.
A total of 24 two-year-old pacing colts were dropped into the box for the Mini Me Stake leading to a trio of $7,000 elimination battles. The top three finishers in each division along with one fourth place finisher (drawn by lot) will return for the $77,000 final next Saturday night.
In the first elimination driver Kyle Wilfong guided the heavily favored Cuatro Cinco to a three-quarter-length triumph in 1:53.4.
Sent to the top just after a quarter in 29.4 the son of Richess Hanover-Hat Trick then proceeded to speed things up as he led the way through middle splits of 58.0 & 1:26.1. The Nelson Willis trainee then sped home in 27.3 to notch his first victory in four career starts. Fox Valley Mahalo (Marcus Miller) turned in a nice effort to finish second while Get A Job (Casey Leonard) was third. Ice Scraper finished fourth.
The middle split went to another overwhelming favorite from the barn of conditioner Nelson Willis as his Hanover Stake runner-up Uncle Smoothie posted a one-length victory in a career best of 1:55.1.
Confidently handled by driver Brian Carpenter the gelded son of Sportsmaster-Kan Commute was content to sit in fourth as Art Genta (Dave Magee) rolled through an opening quarter in 29.0.
Having seen enough of the slow pace Carpenter sent his charge on a mission for the lead. Uncle Smoothie quickly grabbed control of the proceedings as he cruised through middle splits of 57.4 & 1:26.4.  Despite drifting out badly through the final sixteenth of a mile Uncle Smoothie opened up an insurmountable edge in the lane and coasted home with his second win in four lifetime starts. Vavoomster (Marcus Miller) finished second while My Boy Cal (Dale Hiteman) staged a late rally to finish third. Cresby finished fourth.
The final division featured a match-up of undefeated youngsters and fans were treated to quite a performance as Ronald Phillips and John Carver's Peachys Pistol blew by favored Crime Of Passion (Marcus Miller) in the lane to win by a widening two lengths in a career best of 1:53.1.
In a race that featured plenty of action Hall of Famer Dave Magee sent Peachys Pistol right to the front where he cruised through an opening quarter in 29.1. With Magee tapping the breaks as the field headed up the backstretch a live outer flow, led by longshot Vincent Vega (Robert Taylor), quickly developed. With the 57-1 taking command as the field moved through a half-mile in 56.4 Miller quickly rolled up alongside that rival, sweeping from fifth to first with Crime Of Passion as they paced by the three-quarter-mile mark in 1:25.3. While that power sweep appeared to be the winning move as the field turned for home, Magee somehow managed to move his charge to the outside of horses where he flew home in 27.0 while blowing right by Crime Of Passion who was forced to settle for runner-up honors on this night.  Western Cole (John De Long) was a distant third, eight lengths behind the winner. Get A Little Crazy finished fourth. The win was the fifth in as many starts for the Mike Brink trainee.
A total of 17 Illinois conceived and foaled three-year-old pacing colts were entered for the Incredible Finale Stake necessitating a pair of $7,000 elimination tussles. The top five finishers in each division earned the right to battle next Saturday for a jackpot of $61,500.
In the first division Gail Sanders, Rob Ritof, Mark De Vience and Auglyn Corporation's Fox Valley Yukon turned a perfect two-hole trip into a two-length victory. The 4-5 favorite in the race stopped the clock in a career best of 1:51.4.
Taking full advantage of the inside starting spot veteran Dale Hiteman positioned the son of Sportsmaster-Yankee Blue in the pocket as Boi (Dave Magee) led the way through splits of 27.4, 56.0 & 1:24.2 Patiently waiting for the passing lane the Rob Ritof trainee then reeled off a 27.1 final quarter as he charged by the pace setter for his third win in 18 starts this season. Boi held on for second while Fox Valley Mercury (Casey Leonard) was third. Also gaining spots in the final were Dr. Alfonso and Playin For Keeps.
The nightcap also was also taken by a pocket sitting favorite as division leader Dutch Richman also used the inside starting spot to perfection as he came charging through the passing lane to win by 1 ¼ lengths in 1:51.2.
Electing to avoid a prolonged early duel with a hard leaving Rockin Rumble (John Roberts) driver Marcus Miller wrestled the son of Richess Hanover-Fox Estella into the garden spot after "stinging" his main rival through an opening quarter in 27.2.
After patiently sitting behind the pace setter as he continued through splits of 56.2 & 1:24.2 a locked and loaded Dutch Richman was ready to pounce as the field turned for home.
Moving into the passing lane with just under an eighth of a mile to go the Erv Miller trainee proceeded to uncork a 26.4 final quarter as he wore down Rockin Rumble to earn his eighth win in 13 career starts for the partnership of Leland Mathias, Harvey Eisman and The Ervin Miller Stable. Rockin Rumble was a solid second while longshot NJ's Trick Pistol (Art Gregory Jr) rallied to finish third. Filled With Wonder and Cole Snap grabbed the last two spots in next week's final.
The elimination action for the Southland Festival of Racing continues on Sunday night with the Fox Valley Evita and Ann Vonian Stake elimination's. Post time on Sunday is 7:10 p.m. (central).