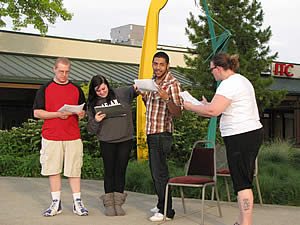 Actors rehearse for 'Scapino' on stage at the Village Green. (Photo: Gary Kopycinski)
Park Forest, IL-(ENEWSPF)- The Illinois Theatre Center will present the lively comedy SCAPINO, adapted from the play by Moliere, as their Free Outdoor Classics presentation, for three performances, June 24, 25 & 26, on the Village Green in Downtown Park Forest. The production is sponsored by the Village of Park Forest.
The play is a modern adaptation by Frank Dunlop and Jim Dale of Moliere's "Le Fourberies de Scapin" (Scapin's Deceits), first performed in 1671. The title character, Scapino, is a stock Commedia D'ell Arte character – the clever servant who plays tricks on his master. While Moliere's original was set in France, this new version takes place in Naples, Italy, at a dockside café.
The plot concerns Scapino's attempts, with the help of his dim-witted sidekick Sylvestro, to solve the romantic dilemmas of their masters, Leandro and Ottavio. Both young men are in love, and both have parents standing in the way of their happiness. Through clever tricks and disguises, Scapino guides the course of true love, outwitting the parents and assuring a happy ending. Along the way, there is clever word play, slapstick comedy, some audience participation, and a few zany Italian songs.
The production is directed by Ernest Ray, who has appeared in numerous ITC productions and also teaches theatre and directs at St. Francis College in Joliet and Lewis University in Romeoville. The cast includes Marlon Hulett, Eric Vonza, Miguel Pined, Kelsey Evans, Amanda-Claire Lowe, John Schieve, Taylor Dixon, Jessica Wilson, Chandler Lowe, Joe Gaudio and Colin Kirchner.
SCAPINO will be presented Friday, June 24, Saturday, June 25, and Sunday, June 26 at 7:30 PM on the Village Green in Downtown Park Forest. In the event of inclement weather, the performance will move inside to the Illinois Theatre Center. Admission is free. Audience members are invited to bring picnics, and there will be soft drinks for sale. Fore more info, call (708) 481-3510.