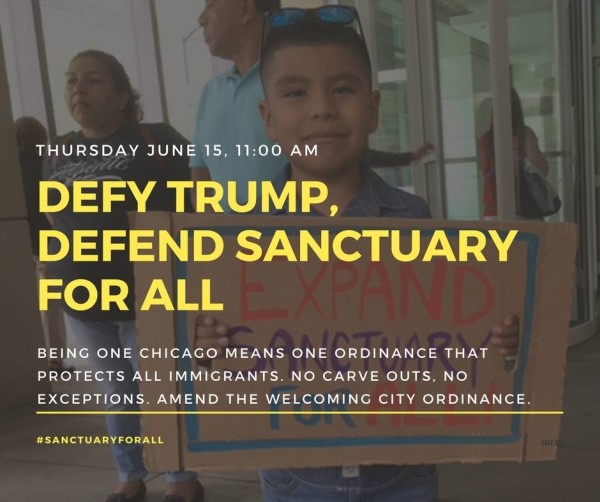 Chicago, IL –(ENEWSPF)—June 7, 2017.  A coalition of immigrant rights, racial justice, legal advocacy, and labor rights organizations have called for a demonstration at City Hall one week before the Chicago City Council, where amendments to the Welcoming City Ordinance, Chicago's "sanctuary city" policy, is expected to be called to a vote.
The groups are calling for a public demonstration after being in numerous conversation with the Office of New Americans, the Office of Public Safety, and the Office of Legislative Affairs, representing Mayor Emanuel,  for two years and finding that the departments are not willing to move forward an ordinance that protects all immigrants threatened by President Trump's deportation policies.
"Because of a mistake I made when I was 22 years old, the City of Chicago does not want to protect me. In fact, they've have insisted that if I ever run into a Chicago police officer I should be turned over to immigration enforcement so that I can be deported," recounted Antonio Gutierrez, a member of Organized Communities Against Deportations (OCAD) at a recent press conference.
Six years ago, Antonio was arrested for driving under the influence (DUI) and because as an undocumented immigrant he had no access to a Driver's License, he was charged with a felony. If he had been detained by the Chicago Police Department for any reason, he would have been turned over to ICE. "For me, and people like me, we do not live in a Sanctuary City," he concluded.
The coalition of groups has been meeting with Aldermen and representatives from the Mayor's office to close the deportation loopholes in the ordinance so that the city would have no part in the Trump administrations unhinged federal removal plans. They have reached a general agreement with the City except on the issue of fixing four broad carve outs that allow the Chicago police department to assist the Trump administration in detaining and deporting some people.
"ICE detainers and warrants do not satisfy the basic requirements of the Fourth Amendment to the US Constitution that law enforcement officers go before a judge and establish probable cause," said Fred Tsao, senior policy counsel at the Illinois Coalition for Immigrant and Refugee Rights.  "Allowing any arrests based on ICE detainers or warrants, without any other judicial finding of probable cause, opens up the city to liability," he concluded.
The City's decision to change the ordinance comes amidst increased immigration enforcement raids and fears of deportation in immigrant communities throughout the city. "In this political climate when we most need the Mayor to mean it when he says that we are a Sanctuary city. The carve outs that would remain in the Welcoming City Ordinance would in fact mean that this is not 'One Chicago' as the Mayor proclaims, but that in fact there are two Chicagos: One for those the City will protect, and one for those it will help deport," concluded Tania Unzueta, Policy Director at Mijente, one of the organizations leading the campaign.
The groups are urging city council to pass the original amendments proposed in February with 28 Co-sponsors and to reject any effort by the mayor to water-down the protections with allowances for local law enforcement to participate in Trump's mass deportation efforts.
###
Organizations involved in the campaign include Arab American Action Network Asian Americans Advancing Justice-Chicago, Organized Communities Against Deportations, the Illinois Coalition for Immigrant and Refugee Rights, the National Immigrant Justice Center, Southwest Organizing Project, Centro de Trabajadores Unidos – Immigrant Worker Defense Project, the Latino Policy Forum, Mujeres Latinas en Acción, Enlace, Hana Center, Chicago Religious Leadership Network on Latin America, Chicago Community and Workers' Rights, the Latino Union of Chicago, Brighton Park Neighborhood Council, Communities United, Community Activism Law Alliance, and Black Youth Project 100.
Source: Organized Communities Against Deportation