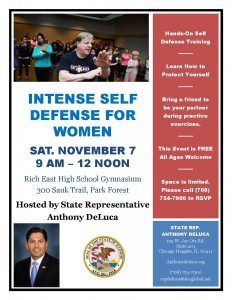 CHICAGO HEIGHTS—(ENEWSPF)—October 30, 2015. State Representative Anthony DeLuca will host the Intense Self Defense for Women Program Saturday, Nov. 7 from 9 a.m. to noon at the Rich East High School Gymanium, 300 Sauk Trail, Park Forest. The event is free and open to those of all ages.
Participants will learn how to protect themselves by learning hands-on self defense. Bring a friend to be your partner during practice exercises.
Space for the event is limited. For additional information or to register for the event, call Rep. DeLuca's district office at 708-754-7900.
Source: Rep. Anthony DeLuca