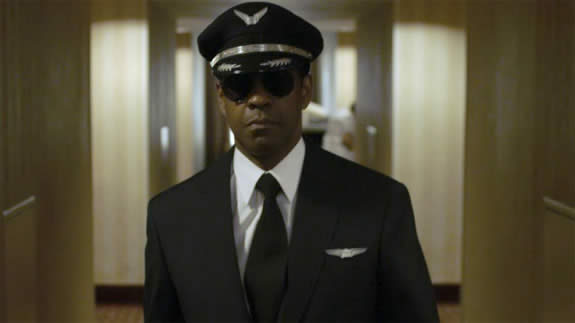 Denzel Washington in Flight. (PHOTO SUPPLIED)
Movie Reviews
By Bernie Jablonski
The often-copied, never-duplicated original Twilight Zone TV show ran an episode entitled "The Last Flight," about a British World War I fighter pilot who, seeing that the oncoming German attack planes will be too much for him, abandons his friend, another pilot in another plane, and flies into a cloud. When he is free of the cloud, and lands, he slowly realizes that he has somehow flown his way into 1960 France. He eventually realizes that he can't stay in this future, that he has to return to the battle to assist his friend. He finds that damn cloud, flies through it, and disappears. Other characters in 1960 accept the fact that the pilot died in the battle, because history bears out that he died a hero.
Actually, I had thought that the name of the episode was "Flight," and was going to draw a stunning parallel between it and the new Denzel Washington movie named Flight, so sorry about the subterfuge. (I've been watching The Mentalist on TV a lot lately, and there are a lot of tricks a fake psychic can teach you.) But, in truth, there is a definite link between the show and the movie. The title …Flight cuts both ways: flying and keeping a plane airborne, and also escape from responsibility.
Flight is not about a plane crash. It is about accepting or disowning responsibility, and how one has or finds courage. But that plane crash, beginning with its descent from the sky, is the proverbial doozy. The trailer for the film barely does justice to experiencing it in a moviehouse. Not only does the 20-25 minute flight not want to make you fly, it doesn't want you to get into any type of moving vehicle. My friend Mike at work dangled in front of me the idea of watching this movie on an airplane, and I nearly ran screaming from the room.
I am not going to reveal the ending, but I am going to give you some story details that the (purposely) misleading trailer leaves out. If you want to be totally taken by surprise, STOP READING NOW.
That very well-edited preview that you've probably seen in theaters and on T V seems to indicate that Flight's story is about a heroic pilot who miraculously saves the plane he's piloting from crashing, and then is hounded because of some minor mistake, a "technicality" with the landing. Wrong. Denzel Washington's pilot character, "Whip" Whitaker, is a self-deluded coward who is a raging alcoholic and drug addict. Yes, he is in denial of the current reality, and has the hubris to think that he can handle any situation, even under the effects of alcohol, marijuana, or cocaine. On the morning of the flight, as he is talking to the passengers on a television screen, what they don't see is that Whip is pouring vodka from two of those miniature in-flight bottles into a container of orange juice, from which he drinks during the flight.
Now, we know that Denzel (I never call public figures by their first names, but with Mr. Washington, I just feel compelled to make an exception) the actor can do dark; he won the Best Actor Oscar for Training Day, where he played a vicious cop, so we know that Denzel the Actor can extend beyond that base of decency that Denzel the Man is constantly standing on. Whip is not a bad or brutal person, but he is, indeed, in flight from something, and that makes him dangerous.
Whip is the cool and masterful one when the plane begins to fall from the sky, trying to keep his young co-pilot (Brian Geraghty) calm and focused, and showing off to the entire world that he was not sleeping in any of his high-school physics classes. The plane crash lands in a field, Whip awakens, and after several people from the NTSB and pilots' union give him acclaim for what he did, he is briefed as to how the seemingly typical-for-these-types-of-legal procedures will be handled. At this point everything seems fine, but a toxicology report reveals the alcohol in Whip's system, and a lawyer (Don Cheadle) is called in to prepare Whip for an NSTB safety hearing, and to try to get the report suppressed.
The story then focuses on Whip's handling of his responsibility and culpability in the accident. He tries to do this with bravado, with female companionship, with balancing the good of the landing with the bad of the drinking, and even trying to pin the drinking on someone else. And, yes. Booze and drugs. An amazing amount of booze and drugs. I was marveling at the huge amount of money the moviemakers must have made through the product placement of liquor, but the Internet Movie Database tells us that the studio did not accept any money to show the labels of actual alcohol products, but used each product in only one scene each, so it did not seem they were favoring anybody.
Denzel is excellent, showing the different paths a person can take to evade the truth, including false starts to be sober, but still making us feel that he is not a villain. Among the other character actors (who are all good), including Bruce Greenwood (who seems to slowly be morphing into William H. Macy) and Melissa Leo (Oscar-winner for The Fighter), the most memorable is John Goodman, and it's really great to see him in such fine comic form after his great comic scenes with Alan Arkin in Argo. The trailer for Flight gives you the impression that Goodman is Harling Mays a friend of Whip's, but he's actually the pilot's drug dealer. (For Harling's initial entrance, the opening notes of "Sympathy for the Devil" are played, and his character walks through the door. Get it?) Goodman is loud and funny, and has some great lines, but it almost seems like he should be wearing a sign that reads "COMIC RELIEF." Hey, I can't say I mind. Probably the line that got the character his biggest laugh was when Harling called a hotel cop by the name of a judge on one of these singing-contest shows on TV.
It was also nice to see Tamara Tunie in a fairly substantial part as a flight attendant. She has a particularly gripping scene with Denzel's character at a memorial service. Tunie, of course, plays Dr. Warner, the medical examiner on Law and Order: Special Victims Unit, as a man sitting behind me was saying to his wife during the scene. People, you've got to learn to whisper, or text, or hey, NOT TALK DURING THE  MOVIE. Harumph.
REVIEW CONTINUES BELOW OFFICIAL TRAILER

Robert Zemeckis, the director of movies with loads of special effects like Forrest Gump and Who Framed Roger Rabbit? keeps us involved, even when he isn't using special effects to scare the bejeebeers out of us watching an airliner deteriorate at 30,000 feet. That scene, like the opening 25 minutes of Saving Private Ryan, is a masterpiece of staging that sets us up the drama that is predicated by it. I do have some quibbles with the narrative, though. Early on, after we've had a chance to get a sense of Whip's personality and character, we see some fairly long scenes involving a different character that we have not yet met. I knew that projectionists putting reels of film on a projector is becoming a lost art (because of digital projection), so I knew that it was unlikely that parts of the story were being projected in the wrong order. Ultimately the two characters' lives converged, but the parallel editing, to me, was confusing, and that type of editing usuaaly doesn't confuse me.
My other objection is with a scene that starts with Whip alone in a hotel room, and that runs to the hearing against Whip. In a movie where the suspense has been handled beautifully, this sequence just seemed like an attempt to squeeze more "tension" into the movie. It reminded me of the escape sequence in Argo, which seemed to be "Hollywoodized" by having Iranian soldiers in hot pursuit. When taken as a whole, though, Flight is a triumph, with Denzel Washington holding it all together.
Bernie Jablonski teaches Mass Media and Film Study in the Fine Arts Department at Marian Catholic High School. He also tutors students at JablonskiTutoring.com.