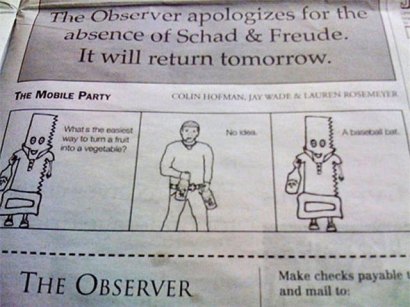 South Bend, IN–(ENEWSPF)–
The independent student newspaper at the University of Notre Dame has published a staff editorial apologizing for a cartoon that made a joke about violence against gays.

"What's the easiest way to turn a fruit into a vegetable?" one character ask another in the cartoon.
"No idea," the second character replies.
"A baseball bat," the first character says.

The editorial Friday says The Observer newspaper created an "egregious" error in judgment with the cartoon published two days earlier. Assistant managing editor Aaron Steiner said the newspaper plans to reveal the results of an internal review on Monday.

"Publishing commentary that seems to encourage or support hate against fellow human beings is inexcusable," the editorial staff said.
Related: Notre Dame's Observer Discontinues 'Mobile Party' Comic Which Featured Gay-Bashing Cartoon