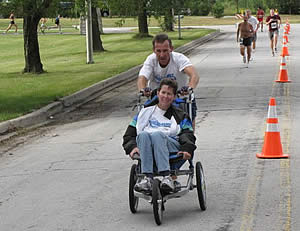 Park Forest, IL–(ENEWSPF)– Labor Day in Park Forest saw the 33rd annual running of a race through town.
The Scenic 5 and More kicked off at 8 a.m. with just over 300 runners registered for the race. Of those 300, there were 290 who finished.
Julius Kiptoo finished first for the men, setting a new course record with a time of 23:46 – a pace of 4:46. Jean Marinangeli was the first woman to cross the finish with a time of 28:21 – a pace of 5:41.
Second place finishers were: Moses Waweru (24:01) for the men and Bethany Brewster (28:34) for the women. Third place finishers were: James Boitt (24:12) for the men and Columba Montes (28:55) for the women.
Newer runners as well as seasoned runners, including members of running clubs from Evanston, Elmhurst and Oak Park took to the course.
eNews Park Forest a number of Facebook photo galleries in this related story: Photographs from the 2010 Park Forest Scenic 5 and More
For a complete listing of results, go here. The Village of Park Forest has photos from the race on its Facebook page.
Also as part of the Scenic 5 and more, two heats were held for kids ages 2-5 and 6-12. Scores of youth raced down Orchard Drive – all finishing as winners.  Other participants took part in a 5k walk of the Central Park Wetlands, a food fest, as well as pool activities at the Park Forest Aqua Center. 
According to the official race results page, seventeen Park Forest residents finished the race. They are Stephen Stolzenbach, Joseph Huizenga, Scott Phillips, Steven L. Sanders, Bryce L Sanders, Chris Martinez, Sean C. Smith, Dan G. Deweese, Eric Zall, Ted A. Stone, Wayne Call, Stephanie L. Nagan, Nirmala Connor, Darwin Yarborough, Kim T. Wilson, Sharon Evans, and Robert P. Ingols, Jr.
Like its predecessor, the Park Forest Scenic 10, the race drew runners from all over the Chicagoland area and from around the country. Results show runners from El Paso, TX, Coon Rapids, MN, Milwaukee, WI, Portland, OR, Toledo, OH, New York, NY, Somerset, PA, Arlington, VA, San Francisco, CA, Princeton, NJ, and Takoma Park, MD.
Related: Photographs from the 2010 Park Forest Scenic 5 and More