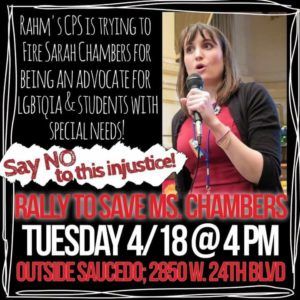 CHICAGO–(ENEWSPF)–April 18, 2017.  Statement on Protest of CPS' Removal of Distinguished Special Education Teacher & GSA Liaison Sarah Chambers:
Over 100 parents, students and community members are expected to gather Tuesday afternoon, April 18 at 4 p.m. at Saucedo Elementary school, 2850 West 24th Blvd., to demand that Chicago Public Schools leadership reinstates Saucedo Special Education Teacher Sarah Chambers and cease what they say is a pattern of discrimination and neglect and an aggressive campaign to remove teachers like Chambers who fight for the rights of their children.
Saucedo Parent Araceli Barrera explained, "I have been fighting for special education services for my child for so long and my child finally got the services and some stability and now the board suspends Ms. Chambers. We have one less Special Education teacher and we were already missing two. CPS must return Ms. Chambers to the classroom so my child can get the instruction that is his right under the law."
Other parents said that Saucedo has been short staffed the entire year, meaning that their students were not getting their required services and that Chambers' absence has made this situation even worse. City-wide, 600 vacant special education positions have been reported due to CPS' turbulent treatment of special education teachers & their excessive workloads.  In many cases, parents are not notified if their children with special needs aren't receiving their legally required special education services.
In addition to parents, community organizations like Access Living and the Illinois Safe Schools Alliance that have worked with Chambers to advocate for the needs of LGBTQ students and students with disabilities will speak at the rally.
Rod Estevan, an education policy analyst from Access Living stated, "Sarah Chambers is a role model for other special education teachers. She supports other CPS special education teachers in advocating for their students needs."
Rodrigo Anzures-Oyorzabal, Policy & Advocacy Manager at the Illinois Safe Schools Alliance has worked with Chambers in supporting the Saucedo Gay-Straight Alliance (GSA) which the administration tried to disband last month.
"Sarah has been a vocal advocate for LGBTQ+ students in her school, acting as a sponsor for their Gay-Straight Alliance. We ask that CPS reinstate Sarah to her position at Saucedo, so that she can continue advocating for her students and giving them the education they deserve."