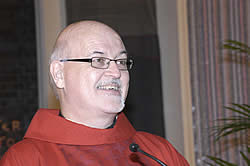 Park Forest, IL–(ENEWSPF)– St. Irenaeus Catholic parish in Park Forest will installed their new pastor on Sunday, April 11. Rev. Terrance Johnson was installed by Bishop Joseph Perry and the congregation, during the 10:30 a.m. Mass. A reception for Fr. Terry, as he is called, followed in the parish hall.
A long-time south suburban resident, Fr. Johnson, was born at St. James hospital in Chicago Heights since his family lived in Matteson. One of seven children, he attended St. Lawrence O'Toole grade school and Marian Catholic High School. He then went on to Prairie State college, St. Xavier and Notre Dame Universities. He taught Religion at Elizabeth Seaton High School and became Chair of the Religion Department. While teaching, he attended summer school at Notre Dame where he received his Masters Degree in Theology. He then became the Director of Religious Education at St. Benedict and Scholastica parish for six years.
Fr. Terry says it was during these years that he was challenged to began thinking about the priesthood.
In 1991, Fr. Johnson entered St Mary of the Lake University and Seminary at Mundelein, IL. He says his time at the seminary "was a spiritual life changing experience." He was ordained on May 21, 1994 for the Archdiocese of Chicago and appointed an Associate Pastor at St. Christopher's parish in Midlothian for the next five years.
Fr. Terry was then asked to return to the seminary, this time as part of the formation faculty working with the seminarians. It was during this time that he had the opportunity to lead and travel with the seminarians , one year to the Holy Land, and then another time to Turkey, Greece and Italy in the "Steps of St. Paul," he says.
After a short assignment with St. Francis Xavier parish in LaGrange, he was invited by the Catholic Theological Union in Chicago to head up the Hesburgh Sabbatical Program, which he did for over five years.
In May, 2009, Fr. Terry was asked to be the administrator at the Park Forest parish. The former pastor, Fr. Daniel O'Sullivan, had died the December before.
Fr. Terry was subsequently appointed as pastor of St. Ireneaus.
When asked how he sees himself operating in this new role he says "I just want to be the best pastor I can be, which will eventually take me into the community." Fr. Terry likes working with the youth of the area and hopes to possibly include other churches in some programs to "connect ourselves to one another."
Therese Goodrich, a long-time parishioner, tells says, "His quick smile and irreverent personality has made him a popular speaker already. We are looking forward to a long, amiable, stimulating and nurturing relationship."