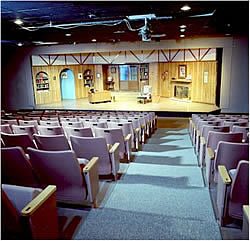 Park Forest, IL–(ENEWSPF)– The Illinois Theatre Center of Park Forest's annual Summerfest musical features a cast of local performers, college theatre students, and special professional guest artists. This year's production, THE LIGHT IN THE PIAZZA, will be presented for eight performances, July 23 through August 1.
THE LIGHT IN THE PIAZZA features music and lyrics by Adam Guettel and book by Craig Lucas, based on Elizabeth Spencer's novella. The Broadway production won six Tony Awards in 2005, including Best Score. The New York Times called it "The most intensely romantic score of any musical since WEST SIDE STORY", while New York Magazine described it as "Breathtaking! Original and daring! …Anyone who cares about the rather uncertain future of this truly American genre must see the show!"
The story is set in Italy in the summer of 1953. Margaret Johnson, the wife of a wealthy American businessman, is touring Florence with her daughter, Clara. While sightseeing, Clara loses her hat in a sudden gust. As if guided by an unseen hand, the hat lands at the feet of handsome young Fabrizio Naccarelli, who returns it to Clara. This brief episode, charged with coincidence and fate, sparks an immediate and intense romance between Clara and Fabrizio. Margaret, extremely protective of her daughter, attempts to keep Clara and Fabrizio apart. As the story unfolds, a secret is revealed: in addition to the cultural differences between the young lovers, Clara is not quite all that she appears. Unable to suppress the truth, Margaret is forced to reconsider not only Clara's future, but her own hopes as well.
The cast for the ITC production includes Special Guest Artist Mary Jane Guymon as Margaret. Ms. Guymon is a veteran of numerous ITC Mainstage and Summerfest shows. Summerfest veteran Megan Murray is Clara. Jameson App makes his ITC debut as Fabrizio. In featured roles are ITC veterans Tom Roberts, Jaime Patriarca and Mike Padden, along with newcomer Stephanie Souza. The ensemble includes Patrick Murray, Katharine Cikanek, Gina Ceragiola, Helen Hallman, Adam King, Carlyse Owens and Mitchell Salinas. The production is directed by David Boettcher, with musical direction by Jonathan Billig.
Performances are Fridays and Saturday, July 23, 24, 30 & 31 at 8 PM, and Sundays, July 25 & August 1 at 2:30 and 7:30 PM. Tickets are priced at $15 for adults, $14 for students or seniors (65+). The Illinois Theatre Centeris located in Downtown park Forest at 371 Artists' Walk (off Indianwood Blvd. adjacent to Village Hall). For tickets, phone 708-481-3510.