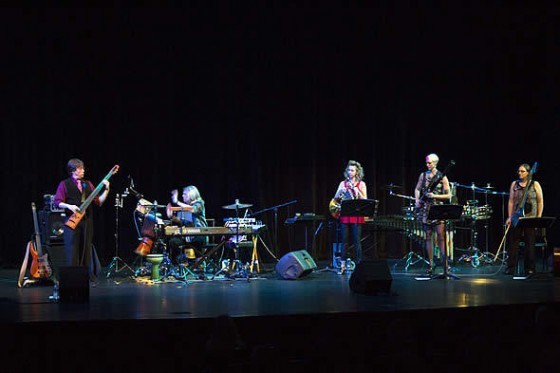 Award winning composer and artist Tom Sharpe and Ensemble
Park Forest, IL-(ENEWSPF)- On Friday, March 10 at 7:30 p.m., the 2017 Freedom Hall Series will present the Tom Sharpe Ensemble.
Tom Sharpe is an internationally recognized, award-winning composer, performer, and recording artist. He is a sought out clinician and performer of his own works, and the artistic director and principal performer of the Tom Sharpe Ensemble. Along with his own music, Tom is the drummer for the widely popular, Grammy award winning group, MANNHEIM STEAMROLLER. Over his career, Tom has performed live as a solo artist, with his ensemble, with Mannheim Steamroller, and with Dennis DeYoung of the famed rock group Styx, as well as guest appearances with Lenny Kravitz, Martha Davis of the Motels, Martina McBride, American Idol favorite David Archuletta, and select US tour dates with singing supergroup IL DIVO.
Tom Sharpe's music is a percussive symphony – a sonic and visual feast for the senses. A classically trained musician, Tom has dramatically blended his orchestral background with world music instrumentation to create an experience that invites the listener into the heart of the musical moment. His music could be described as wildly emotional and technically precise, with a gutsy edge of percussive frenzy and tribal ritual. He is accompanied by his ensemble featuring Amanda Nelson (electric cello), Jeff Elbel (fretless bass), Theresa Brooks (bassoon), and Kelly Langenberg (horn).
Tom's debut CD "Like Setting Myself on Fire" was released to critical acclaim. Tom performed the world premiere of "Like Setting Myself on Fire" at the Rock and Roll Hall of Fame in Cleveland, OH.  The title track of the CD was voted "Grand Prize Winner" – World Music Song of the Year by the John Lennon Songwriting Contest. "Trance-formation", another album track, received honors as one of three finalists in the same category. He released his second album "Lifting the World – A Symphony by Tom Sharpe" in 2014. Tom can also be heard on the CD "Mannheim Steamroller, Christmas Symphony II" (2013) and the Blu Ray/CD package "Dennis DeYoung and the Music of STYX, Live in Los Angeles" (2014).
Tickets for The Tom Sharpe Ensemble are $25 and can be purchased at the Freedom Hall box office, by phone at 708/747-0580, or online at www.freedomhall.org. Freedom Hall is located at 410 Lakewood Boulevard in Park Forest, IL.