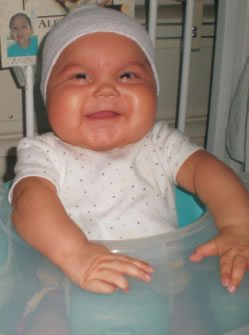 Park Forest, IL–(ENEWSPF)– Celebration Ministries is hosting a Trike-A-Thon fundraiser for Alex, a 10-month-old infant and Homewood resident, who is battling a rare and potentially fatal blood disorder. The charity event will take place on Saturday, August 14, 2010, from 10 a.m. to 3 p.m. at 424 Indianwood Blvd Park Forest, IL 60466 Children 10 and under are invited to participate in the Trike-A-Thon.
Alex M. Hilton is the son of proud parents Myriam and Gerald. He is the baby brother to Alyssa and Arielle. Alex has inherited a rare blood disorder known as Hemophagocytic lymphohistiocytosis (HLH). He is suffering with severe GVHD (Graft vs. Host Disease) of the skin. The skin on his hands were so taught it threatened amputation of his fingers and left arm. The pain of this "rash" is so excruciating, he is on a PCA and ativan and Benadryl and nubain around the clock. The itching is terrible. He bleeds from every orifice…every one. He is in pain and slightly contracted at the knees as it pains him to straighten them and keeps arms straight at his side.
Alex is suffering with complications of the BMT (bone marrow transplant). There was a chance he was rejecting the graft, so Alex was reinfused with stem cells. He has not smiled in a month. Still, his mother says he is improving each day.
"I will never give up on my Alex, he means the world to me," Alex's mom Myriam says.
20% of proceeds raised will go to the Histiocytosis Association of America and the remainder to Alex's family to help with the cost of his daily care and treatment. The afternoon will also feature the opportunity to register to become a bone marrow donor.
Megan Miller, one of the organizers of the charity event provided literature for the event regarding becoming a bone marrow donor, a process that only takes about 15 minutes, requiring a cheek swab and completion of a consent/registration form.
To be a bone marrow donor, you must:
Be between the ages of 18 -60
Be willing to donate to any patient in need
Meet health guidelines
The following conditions would exclude a donor:
HIV or risk for HIV
Hepatitis or risk for hepatitis
Most forms of heart disease or cancer
Chronic lung disease/Chronic Asthma
Diabetes requiring insulin
Diseases that affect blood clotting or bleeding
Recent back surgery, or severe ongoing back problems
Autoimmune/neurological disorders such as lupus, rheumatoid arthritis or multiple sclerosis
Being an organ or marrow transplant recipient
Significant obesity
Current sleep apnea
In 2009, over 12,000 patients were in need of a life-saving marrow or blood stem cell transplant.
Hemophagocytic lymphohistiocytosis (HLH) is a rare disorder of the immune system primarily affecting young infants and children. Although physicians have written about the disorder over the years, it has been only in the last few years that it has received more widespread attention. HLH is affects about 1 of every 1,000,000 children under the age of 15. The disease usually presents with fever and sometimes other symptoms of an infection. In many cases, a pathogen (viral, bacterial, etc.) can be identified. The human body contains many cells including T-cells and histiocytes that fight infection. The activation of these cells causes an inflammatory reaction in the body. Normally, when the pathogen has been eliminated, the inflammatory reaction is turned off, and the immune system returns to its steady state. In HLH patients, due to defect of the immune system, the inflammatory reaction persists and causes the symptoms of HLH.
More information on the event is available at www.savemyalex.com or by calling Megan Miller at 708-341-0841.