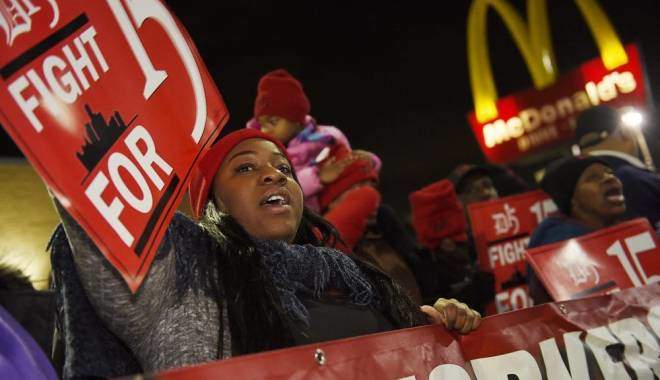 Photo Source: fightfor15.0rg
Rallies Across 24 Cities to Culminate in Massive March on Lorraine Motel in Memphis, Tenn., Marking Anniversary of Dr. Martin Luther King's Assassination; Nation's Two Most Powerful Social Movements to Join Forces, Vow to Resist Efforts by GOP Politicians to Crack Down on Protestors
WASHINGTON –(ENEWSPF)–March 31, 2017.  Thousands of workers fighting for $15/hour and union rights will join racial justice activists in the Movement for Black Lives to wage a two-dozen-city "Fight Racism, Raise Pay" protest Tuesday, the 49th anniversary of Dr. Martin Luther King Jr.'s assassination and the 50th anniversary of the civil rights icon's historic "Beyond Vietnam" speech.
The coast-to-coast protests will culminate in a march by thousands of workers, national civil rights leaders and politicians on the Lorraine Motel in downtown Memphis, where they'll hold a memorial at the site of Dr. King's assassination (a livestream of the march in Memphis will beavailable here). In rallies, marches, vigils and teach-ins across the country, leaders in the Fight for $15 and Movement for Black Lives will highlight that the push for economic and racial justice remains as deeply linked today as when Dr. King was killed in 1968 supporting striking black sanitation workers in Memphis.
*Information on the Memphis march to "Fight Racism, Raise Pay" is below. Details on locations and times for protests in other cities can be found here.
WHAT: Fight for $15, Movement for Black Lives March in Memphis to "Fight Racism, Raise Pay"
WHO: Thousands of workers, racial justice activists, elected leaders and clergy
WHERE:
12pm noon: Public rally at Mississippi Boulevard Christian Church with Rev. Barber and Memphis fast-food worker Ashley Cathey
70 N. Bellevue Blvd, Memphis, Tenn.
5:00 pm: March through downtown Memphis to Lorraine Motel
125 N. Main Street, Memphis, Tenn. (Livestream of the march in Memphis will be available here)
Background:
The April 4 protests are the latest wave of defiance against reactionary attacks on working people, people of color, women and immigrants. Just weeks after the November 2016 election, thousands of workers in the Fight for $15 walked off the job from coast to coast and engaged in waves of civil disobedience. The walkouts marked the start of a new era of mass demonstration, including the Women's March and a rash of protests at the nation's airports following President Trump's announcement of an immigration ban from predominantly Muslim countries. The April 4 Fight for $15/Movement for Black Lives protests will kick off a wave of protests around the country in the following weeks, including demonstrations calling attention to immigrants' rights, climate change and tax policy that benefits the rich.
The April 4 protests come as Republican lawmakers in more than two-dozen states have introduced legislation aimed at cracking down on protestors like those in the Fight for $15 and the Movement for Black Lives.The marchers will converge in Memphis weeks after a local Fight for $15 worker organization filed a federal civil rights lawsuit against the city, charging its police department with widespread illegal surveillance and intimidation to stifle worker protest. Rallies on April 4 in Minneapolis, Detroit and Durham will condemn anti-protest legislation proposed by lawmakers in those states.
Dr. King saw a common bond between the labor and civil rights movements and believed that union rights were fundamental to achieving racial justice. As King said in 1961, "the two most dynamic and cohesive liberal forces in the country are the labor movement and the Negro freedom movement. Together we can be architects of democracy."
The April 4 actions will conclude with a national moment of silence at 6:01 pm Central – the exact time of Dr. King's assassination – when Americans across the country will reflect on Dr. King's dream for racial and economic justice and how it connects to theirs.
Racial justice organizations participating in actions on April 4 include Black Lives Matter chapters in Los Angeles, Calif., Atlanta, Ga., Broward County, Fla., Hillsborough County, Fla., Chicago, Ill., and Flint, Mich.; NAACP chapters in Missouri, North Carolina, Virginia and Las Vegas, Nev., and other groups including Black Youth Project 100 and Workers Center for Racial Justice in Chicago, and Dream Defenders in Tampa and Miami.
###
Fast food workers are coming together all over the country to fight for $15 an hour and the right to form a union without retaliation. We work for corporations that are making tremendous profits, but do not pay employees enough to support our families and to cover basic needs like food, health care, rent and transportation.
Source: http://fightfor15.org