A family dining at the 2013 Pancake Day. (Photo: Kiwanis)
Park Forest, IL – (ENEWSPF) – The Kiwanis Club of Park Forest was founded in 1951 as a member of Kiwanis International with a commitment to community service for children, young people, the aging, and the needy in local and international settings. The club sponsors numerous service projects through local organizations such as: Key Clubs at Rich Township High Schools, youth programs at the Park Forest Police and Fire Departments, Nurses Plus, Children's Memorial Hospital, Rich Township Food Pantry, Public Action to Deliver Shelter (PADS), Faith United Protestant Church, Park Forest Library, Tall Grass Arts Association, the Illinois Philharmonic, the Park Forest Historical Society, and Spastic Paralysis Research. Kiwanis International has awarded the club many Distinguished Club Awards for outstanding community service.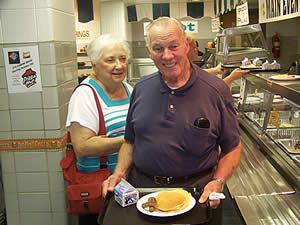 A couple receiving breakfast at the 2013 Pancake Day. (Photo: Kiwanis)
Pancake Day
The Kiwanis Club of Park Forest recently celebrated its 62nd Annual Pancake Day with its new indoor format in the superb dining facilities of Rich East High School. With the special assistance of the excellent food service professional at Rich East, Pancake Day was executed efficiently and enjoyably with Kiwanians and numerous volunteers providing attentive and prompt services. Many guests were elated to return to Rich East to experience that special south suburban camaraderie while greeting previous friends and making new ones. This unique event attracted its usual diverse representation of families, seniors, young people, and children with especially strong representation from the Key Clubs of the Rich Township High Schools. The experience was made complete with the wonderful servings of golden brown pancakes, sizzling link sausages, coffee, and milk.
Did we mention pancakes? (Photo: Kiwanis)
Kiwanis International consists of:
Kiwanis – about 8000 clubs located in 80 nations with some 260,000 adult members.
Circle K International – the largest university leadership organization in the world performing half a million hours of service each year with more than 12,600 members in 17 nations.
Key Club International – the oldest and largest high school service leadership organization with some 5,000 clubs in 30 nations.
Builders Club – a "student-led" community service organization with more than 42,000 adolescent members.
Aktion Club – allows adults living with disabilities to participate in community service projects with some 92,500 service hours each year.
Kiwanis Kids – a service leadership program for primary school students with more than 33,000 members.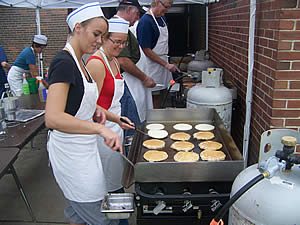 We are grateful to our many, many volunteers. Join us! (Photo: Kiwanis)
The Eliminate Project – a Kiwanis worldwide service project, in partnership with UNICEF, to raise $100 million and save the lives of 129 million mothers and their future babies through the elimination of maternal/neonatal tetanus by 2015. Maternal/neonatal tetanus kills one baby every nine minutes.
Worldwide, Kiwanis clubs participate in some 150,000 service projects and raise nearly 107 million dollars each year for communities, families, and projects.
See more photos of the 2013 Kiwanis of Park Forest Pancake Day here.