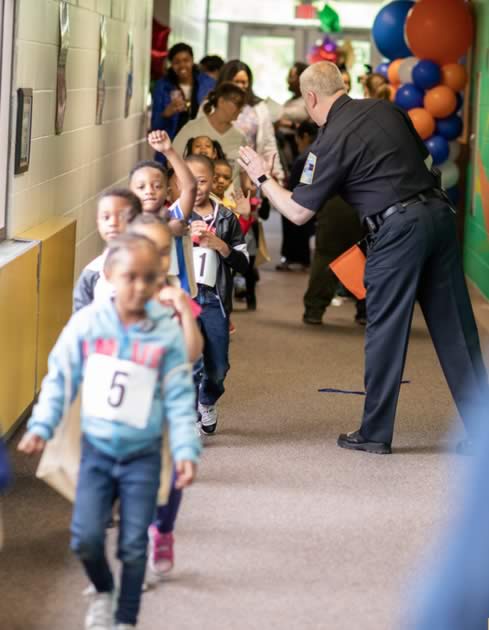 "On your mark, get set, and WALK."
Richton Park, IL-(ENEWSPF)- With that, 80 kids, ages 3, 4, and 5, stepped off through a balloon archway in the "Walk the Path 4 Literacy and Mathematics" one morning earlier this month at Richton Square School, Richton Park. A second group did the same in the school's afternoon session.
"We're so proud of our students who walked 2,000 steps, a full mile, around our gym and through our hallways," said Ms. Narishea Parham, Associate Principal.
The threat of stormy weather kept the event inside Richton Park School instead of the original plan to circle the walking path around adjacent Helen M. Jones Park, but nonetheless, the kids and adults had great fun.
"This was a wonderful initiative hosted by the Richton Square School Parent Advisory Council designed to promote healthy lifestyles while cultivating an appreciation for literacy and mathematics," she explained.
Members of the Richton Park Police Department, the Village's Recreation Center as well as the Matteson Public Library and Black Girls Run Chicago cheered the walkers on to the crepe-paper finish line.
Just like adult walk/runs, the event had water stations, healthy snacks, and opportunities to engage in fun interactive learning projects to promote health and wellness, Parham explained.
Every student wore a racing bib and a pedometer, earned a certificate of achievement and a medal and was given a reading book and a drawstring book bag, she said.
"This was so good," said Damerius Matthews. Malachi Crosby added, "This was great. I liked learning about pedometers."
"This was really fun," said Ellysen Spearman, who added, "you need to walk to be healthy."
After completing the 2,000 steps, Shaniyah Schmidt said, "I'm going to do this every day."
"Water makes you healthy," declared Farouk Iledare and Khloe Strong said, "we learned a lot today." "Richton Square School looks forward to a drier spring next year when we hope to make the full walk around the park," said Parham.
This is a release from School District 162 received May 31, 2019.