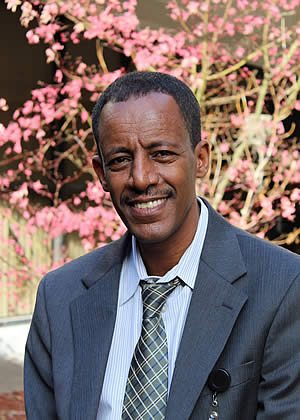 Dr. Adane Gebeyaw Kassa. (PHOTO SUPPLIED)
Chicago Heights, IL-(ENEWSPF)- Prairie State College (PSC) recently named Adane Gebeyaw Kassa director, institutional research and planning.
In that role, he will lead the college-wide efforts to create and maintain a culture of evidence-based decision-making. He will conduct institutional research and analysis to enhance academic planning, enrollment management, program assessment, and strategic decision-making. He also will play a key role in responding to external regulatory agencies, developing performance indicators, and guiding institutional effectiveness and continuous improvement. 
"We are excited about Dr. Adane Kassa joining the PSC family as the director of institutional research," said Gregory Thomas, vice president of student affairs and dean of students. "He comes to PSC with a strong professional background in conducting institutional research, utilizing research software, coordinating federal and state reporting, forecasting population and market trends, promoting institutional effectiveness, and satisfying the data/research demands of projects, grant programs, faculty, students, and staff."
Kassa joins PSC from Muskegon Community College, where he was director of institutional research and grants. Prior to his work at Muskegon, Kassa served as project evaluator/research assistant and then project coordinator at City Colleges of Chicago, program director with the Ethiopian Community Association, employment program manager/electronics instructor with the Vietnamese Association of Illinois. When in Ethiopia, Kassa served as high school principal/electricity teacher and then finance and HR manager for the Ministry of Education.
He has a Bachelor of Arts in Educational Administration from Addis Ababa University in Ethiopia, a Master of Science in Technical Education with a minor in Adult Education from Dresden University of Technology in Dresden, German, and a Doctor of Education in Educational Leadership from Chicago State University.