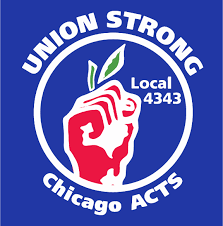 New contract averts what would have been first strike of a charter school network in U.S history.
CHICAGO—(ENEWSPF)–April 4, 2017: Educators at ASPIRA's charter schools voted overwhelmingly late last week to approve a tentative agreement with management — and at 5PM on Monday, the union's leadership signed the final contract with ASPIRA management, formally ending the possibility of what would have been the first strike in U.S. history of a charter school network. ASPIRA runs four publicly funded Chicago charter schools serving roughly 1,800 mostly Latino students. ASPIRA educators – all members of ACE, "A Council of Educators" within ChiACTS Local 4343, which represents educators at 32 charter schools in Chicago – negotiated with management for a new contract for ten months. In February, 99% of members who voted authorized a strike, but management settled with educators on March 9, a week before the strike date, agreeing to many of the teachers' demands.
ACE educators voted almost 7 to 1 in support of the new contract. Several members on maternity leave did not vote, and the 103-member bargaining unit currently has roughly a dozen vacancies, bringing the vote total to 67 in favor, ten voting no and ten not voting.
"This new agreement will help stabilize staffing, open the door to long-term improvements in our schools, and guarantee working conditions that allow us to continue to provide our students with a truly exceptional educational experience," said Marines Martinez, the acting president of ACE. "There is nothing we want more than to concentrate on our work in the classroom, helping our students grow intellectually and emotionally into the outstanding adults they all have the capacity to be. This agreement allows us to move beyond the challenges of the negotiating process and focus our energies exclusively on the needs of our students."
ASPIRA educators argued that any agreement needed to cement working conditions that would support the sustainability of ASPIRA's four schools and the students who rely on ACE members for a quality education. The bargaining team fought hard for terms that would address those concerns — and have welcomed the opportunity to move forward from what was often a difficult negotiating process.
"We work as a real team in our schools," said ACE member Tito Rodriguez. "Our principals, teachers, mentors, counselors, advisors and support staff all share a profound commitment to our students, their parents and the larger community — and this agreement allows us to build on our shared solidarity and continue to provide the quality education our students both need and deserve."
The agreement encompasses the last ten months that ACE educators bargained with management after their previous contract expired, and educators will be back at the bargaining table with management working on their next contract beginning this May.
"After parents, teachers know best what students need, and our sisters and brothers at ACE have used that knowledge and the collective bargaining process to make crucial improvements in their schools," said Chris Baehrend, president of Chicago ACTS Local 4343, the parent union of the ACE council. "ACE has also held Aspira accountable for their use of our tax dollars, more of which will now be dedicated to resources in the classroom. This is an important victory for all ChiACTS members, as it demonstrates that when educators with a union voice take a principled stand for their students, they can make their schools more effective educational communities, better able to help students attain bright futures."
Source: ASPIRA Charter Schools of Chicago