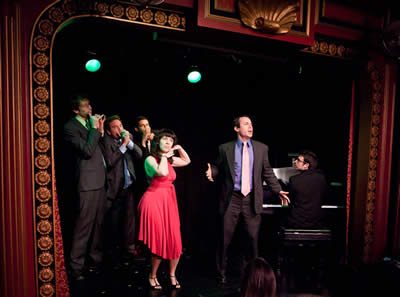 Broadway's Next H!T Musical (PHOTO SUPPLIED)
University Park, IL-(ENEWSPF)- Governors State University Center for Performing Arts opens its 2012-2013 season with "Broadway's Next H!T Musical," an award-winning comic evening of music, humor, and laughter. Direct from smash-hit engagements in New York and several theater festivals, "Broadway/s Next H!T Musical" comes to GSU Center for one performance only on Friday, September 21, at 8 p.m.
The hysterical "Broadway's Next H!T Musical" is the only unscripted theatrical awards show. Master improvisers gather made-up, hit song suggestions from the audience and create a musical comedy on the spot. The audience votes for their favorite song and watches as the cast turns it into a full blown improvised musical – complete with memorable characters, witty dialogue, and plot twists.
Every song is fresh. Every scene is new. Every night is different. It's all improvised and it's all funny. TheaterWeekhailed the show as "brilliant" and the New York Post called "Broadway's Next H!T Musical" "remarkable." Time Out New York announced, "At last! A musical of, for, and by the people…That's entertainment!" and the New York Times called the show "hilarious."
"Broadway's Next H!T Musical," under the direction of improv veterans Rob Schiffman and Deb Rabbai, has been seen recently at The Triad, Tribeca Film Festival, and at the New York Musical Theater Festival, among many other venues.
Tickets for "Broadway's Next H!T Musical" range from $15 to $50. To purchase tickets, or for further information, contact the GSU Center box office at www.centertickets.net or (708) 235-2222. The box office is open Monday through Saturday from 10 a.m. to 4 p.m., and two hours prior to performances.
Multibuy/Megabuy packages are available at GSU Center. Choose any three or four shows and receive the Multibuyer discount; choose any five or more shows and receive the Megabuy discount. In addition to big savings, package holders receive ticket exchange privileges with 72 hour notice or more, priority seating, and more. Packages are available for purchase through the box office only and are not currently available online.
As the Center for Performing Arts enters its 18th season, audiences will again experience the best in music, dance, theater, family fare, opera, and children's programming. GSU Center remains committed to offering world-class performances that are affordable and close to home for audiences in the Chicago Southland region. During the 2012-2013 season, shows at GSU Center are supercharged with relevant themes, top-notch performers, and a diverse explosion of cultures, genres, and styles.
GSU Center is located on the campus of Governors State University, 1 University Parkway, University Park, Illinois. For further information, contact the box office at www.centertickets.net or (708) 235-2222.