CHICAGO HEIGHTS–(ENEWSPF)–October 28, 2014. Prairie State College (PSC) recently honored Dr. Dale Collins, attending physician in the Maricopa Integrated Health System in Arizona and former obstetrician/gynecologist in Chicago Heights, with the 2014 Michael R. Monteleone Community Service Award. The award was announced at the September meeting of the PSC Board of Trustees.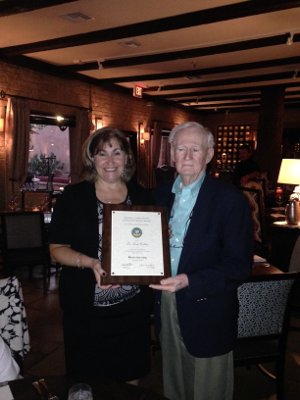 The award is named after the former trustee, who served on the PSC Board of Trustees for 23 years. It is intended to recognize a community member or members in the PSC district who have contributed in an extraordinary way to education through community service as either a volunteer or a community leader.
Dr. Collins was recognized for being instrumental in selecting the site of PSC and for starting the college's associate degree nursing program. Dr. Collins was on the site committee and served as president of the PSC Board of Trustees. As a junior college graduate who went on to graduate from Northwestern University Medical School, he identified with community college students and was a huge proponent of having one in the area.
Choosing the site of PSC was very political, and many other communities were vying for the college. The current location was one of seven sites that were considered, including the Crete-Monee area, Park Forest and Olympia Fields. There was much opposition to the college's location since other communities wanted the college. Criteria used to evaluate the sites included locating the site near a population center, availability of public utilities and services, and size of the lot available.
"The college location has turned out to be a great one, and its proximity to public transportation, population centers, and major highways makes it accessible and available – two key components for a community college," said Jennifer Stoner, PSC executive director of public relations and marketing, who nominated Collins for the award. "The foresight of Dr. Collins to fight for this location is now understood and appreciated."
Dr. Collins also played a role in developing the nursing degree program at PSC, which he says is very rewarding to him. He was the commencement speaker at the first graduation of nurses and stated he foresaw a future in nursing and predicted an expansion of their profession beyond just "bedside nursing." He was right on both counts.
"In addition, the nursing program at Prairie State College is one of the college's premier programs and one that has helped our reputation," Stoner added.
PSC President Dr. Terri L. Winfree presented Collins with the award during a special meeting.
"I am pleased that I was able to present Dr. Collins with this award," she said. "He worked so diligently in choosing Chicago Heights as the location for the college that has been such an important part of my life, personally and professionally.
"When we met, there was so much history that he wanted to share, and I was happy to hear how proud he is of Prairie State College. He is so deserving of this award, and it was an honor to present it to him personally," she added.
Source: prairiestate.edu