CHICAGO HEIGHTS–(ENEWSPF)–October 30, 2014. Prairie State College (PSC), in partnership with the Illinois SBDC International Trade Center at Governors State University, is hosting an International Speaker Series, bringing global leaders to PSC. The series was established in recognition of the 20th anniversary of NAFTA coming into effect.
The series is co-sponsored by the Illinois Department of Commerce & Economic Opportunity.
The goal of the series is to educate attendees on protocol for doing business with the featured countries. The presentations will describe Illinois' current economic relationship with the featured country, discuss the business climate in the featured country, and share some of the considerations that companies not currently involved in the featured country's market should know about.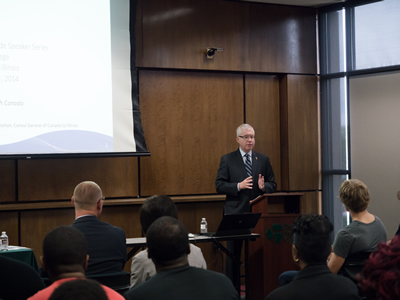 Consul General Roy B. Norton was the inaugural speaker for the series, and addressed opportunities for trade with Canada during his Oct. 3 address.
All presentations in the series will be held from 9:30 to 11:30 a.m. in the Conference Center of the PSC main campus, located at 202 S. Halsted St. in Chicago Heights. Each presentation has a $25 registration fee. Or, attendees can register for the series and pay only $75.
The next presentation features Consul General Masaharu Yoshida of Japan, and will be held on Friday, Nov. 7. Future presentations feature Consul General Klaa van der Tempel of the Netherlands on Dec. 5, 2015; Consul General Stephen Bridges of the United Kingdom on Jan. 9, 2015; and Consul General Carlos Martin Jimenez Macias of Mexico on Feb. 6, 2015.
For more information or to register, contact Michelle Guiliani at [email protected] or (708) 709-7957.
Source: prairiestate.edu