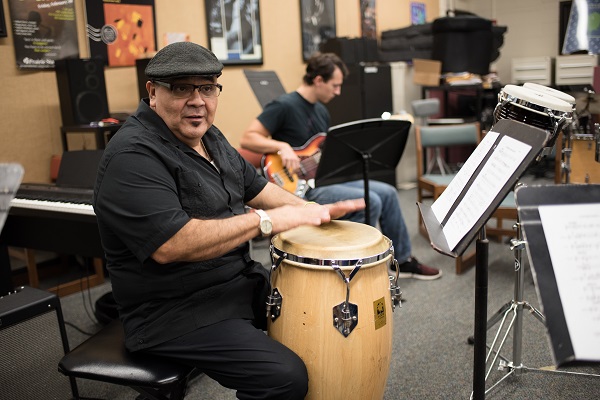 CHICAGO HEIGHTS—(ENEWSPF)—August 21, 2017. The Prairie State College (PSC) Music Department invites students and community members to participate in PSC's music ensembles this fall. Ensembles explore a variety of music styles and are open to the college community, whether participants are majoring in music or not.
Beginning Sept. 9, the Latin Music Ensemble (Latin Jazz), directed by Ruben Alvarez, will meet on Saturdays from 10 a.m. to 12:50 p.m. in room 105 of the K Building (K-105), located on the north side of Vollmer road across from the college's main campus at 202 S. Halsted St. in Chicago Heights. On Sept. 11, the Wind Ensemble, directed by Phil Crews, will meet on Mondays from 6:30 to 9:40 p.m. in K-105. Performers interested in joining the Wind Ensemble must be playing at an intermediate or higher level.
Jazz Choir, directed by Toni Elliot Bell, will meet on Mondays from 6:30 to 9:40 p.m., beginning Sept. 11, in room 3275 of the main building. Veteran jazz musician Eugene Vinyard will direct the Jazz Ensemble on Tuesdays from 7 to 9:50 p.m., beginning Sept. 12, also in room 3275.
The Concert Choir, directed by Jo Rodenberg, will meet on Tuesdays from 7 to 10 p.m., beginning Sept. 12, at Temple B'nai Yehuda Beth Sholom, located at 1424 183rd St, in Homewood. To join the choir, an audition is required. To set up an audition, call 708-709-3742.
The fee to join each ensemble is the cost of one credit hour at the college and offers one college credit for performers who are interested. Performers ages 65 and older can take the credit courses at no charge. An audition for placement may be requested. For more information, contact Valerie Nicholson, Coordinator, Performing Arts/ Professor, Music at [email protected] or call 708-709-3742.
Source: www.prairiestate.edu