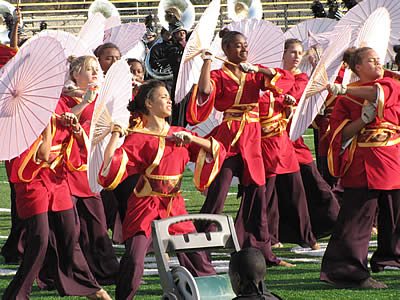 The Marian Band performs its Grand Nationals show for the student body Friday in Spartan Stadium. (Photo: ENEWSPF)
Chicago Heights, IL–(ENEWSPF)– The Marian Catholic High School Marching Band captured fourth place in the Bands of America Regional Championship Saturday in Indianapolis. The band took first place in the State of Illinois the weekend before. The band will compete at BOA Grand National Championships in Indianapolis this weekend.
The band was featured Sunday in the Chicago Tribune in an article by Howard Reich:
One day before the state championships, things are not going well.

Several kids are on crutches, a few more are out with the flu and the wind is blowing mercilessly into everyone's face. With the temperature plunging into the low 40s, a drizzle threatening to become a deluge and musical instruments refusing to cooperate — can a trombone really sound that weird? — patience is running short.

"One hour from now, the heavens may open up, and it's unworkable," laments band director Greg Bimm.

He's trying to get the kids at Marian Catholic High School, in Chicago Heights, to stop worrying about the black clouds gathering above the football field and focus on music and marching.

"Trumpet 19, are you not supposed to be inside the 45?" he moans, his voice thick with exasperation.

Bimm and his kids have been in bad spots before, but never quite like this. When the season started, at the end of August, they were "a tragic mess," says the director, and they have never been plagued with so many injuries and illnesses.

Moreover, Marian has always been outspent by bands from bigger schools that enjoy luxuries Marian cannot afford: large staffs, plush travel, comfortable accommodations. When Marian Catholic's 240-plus band members — that's one of every six students in the school — go on the road, they bump along in yellow-and-black school buses and sleep on gymnasium floors.