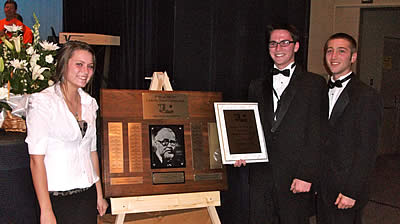 Marian Catholic Symphonic Band Members Alex Armellino '12 (Steger), Mark Hanrahan '12 (Oak Forest), and David Tiberi '12 (Chicago Heights) are pictured with the State of the Art Grand Champion trophy.
Chicago Heights, IL-(ENEWSPF)- On Saturday, February 18, the four concert bands from Marian Catholic High School traveled to St. Viator High School in Arlington Heights to compete in the 32nd Annual State of the Art Catholic Band Contest. Groups from around the Chicago area were in attendance including Brother Rice/Mother McCauley, Providence, St. Rita, and several others culminating in nineteen performing ensembles.
Judges included Judith Grimes, Director of Bands at Elmhurst College, Stacey L. Larson, Assistant Director of Bands at Vandercook College of Music, and Dr. Ken Dye, Director of Bands for the University of Notre Dame. Marian Catholic has participated every year in the musical event since its inception.
The Marian Concert Band performed in exhibition at the finale of the competition as they won the overall event in 2011. The Cadet Band, the only all-freshmen band participating, placed second in their class and fifth overall. The Marian Varsity Band placed first in their class and third overall while also capturing Best Percussion.
Finally, the Marian Symphonic Band was once again named Grand Champion of the overall contest, winning in their class, Best Woodwinds, Best Brass, and Best Percussion, and also scored a 97 out of a possible100. This continues a 32-year streak for the Marian Symphonic Band to win the contest every year of eligibility, along with the reign of a Marian band winning the overall Grand Championship at the State of the Art since 2004.