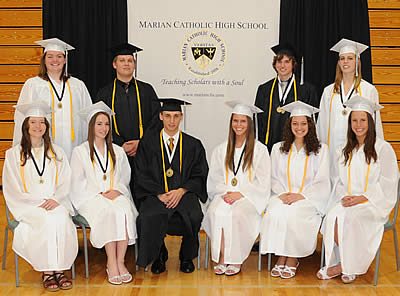 The Marian Catholic Academic Top Ten from the Class of 2010 is Sarah Smith of Crete (Vanderbilt University), Anne O'Shea of Munster (St. Louis University), Class Salutatorian Sean Woods of Olympia Fields (University of Notre Dame), Class Valedictorian Jennifer Szotek of Tinley Park (University of Notre Dame), Jillian Fata of St. John (St. Mary's College) and Keegan Marz of Crete (University of Iowa). Standing is Katelyn Campbell of Homewood (University of Notre Dame), Ronald Dymerski of Beecher (University of Illinois), Thomas Sullivan of Evergreen Park (Loyola) and Kimberly Karlin of Dyer (Purdue University). (PHOTO SUPPLIED)
Chicago Heights, IL–(ENEWSPF)– Educating students in the Dominican tradition of study, prayer, community and preaching, Sister Judine Hilbing, O.P., President, along with the faculty and staff of Marian Catholic High School, proudly announce the graduation of the Class of 2010. At a ceremony held Monday, May 17th at the Tinley Park Convention Center, diplomas were awarded by Sister Kathleen Anne Tait, O.P., Principal, to 335 "Scholars with a Soul" who collectively earned more than $16 million in college scholarships.
The members of the Marian Catholic High School Class of 2010 follow:
Alejandra Alcantar, Amanda, Alderfer, Brittany Altemus, Abriana Anderson, Jessica Anderson, Bridgette Andras, Margaret Andres, Bryon Bajorek, Colleen Baliga, Gabriela Baltazar, Nicholas Baltrus, Andrew Banach, Margaret Banach, Daisy Banuelos, Samuel Beck, Alexander Bell, Lisa Belzeski, Paul Bening Jr., Heather Bennett, Nolan Berens, Jordan Billups-Taylor, Kaitlyn Bilotta, William Blewitt, Rachel Blood, Haley Boblink, Lindsey Bohlen, Lauren Bojarski, Lauren Bond, Ieesha Bonner-Forde, Raven Bowers, Regis Bowers, Emily Brewster, Danielle Brierre, Gary Brignardello, Staci Brocious, Lindsey Brooks, Jasmine Brown, Joseph Brunner, Mileva Brunson, Kathryn Bryzgalski, Joseph Buoscio, Megan Burke, Tempest Burt, Jake Steven Bustos, Ashley Buttron, Brandon Byrd, Jonathon Caffarelli, Kailee Cahill, Abigail Callaghan, Katelyn Campbell, Alexis Cann, Kyle Carlson, Rebecca Carson, Kelsey Cavanaugh, Regina Ceragioli, Ryan Chambers, John Cioffi Jr., JohnMichael Ciszewski, Paula Clarke, William Clarke, Mia Cleary, Christopher Cohn, John Coleman, Caitlin Connelly, Aaron Cook, Eric Coronado, Morgan Coughlin, Trevor Cummins, Megan Cwayna, Abigail Czarobski, Ronald Daley, Casey Davis, Melanie Davis, Colleen Daw.
Christine Dawson, Aubrey DeBoer, Emily DeBoer, Lauren DeLuca, Brandon Dennis, Alexandra Diaz, Kayla Dietz, Kevin Dorsey, Donnie Dupaya, Ronald Dymerski Jr., Nina Easterling, Daniel Eckel, Brandy Eggermann, Ashley Ellerson, Cameron Ellison, Briana Engelbert, Jillian Fata, Nicole Fedinets, Joseph Fiaoni, Valerie Finnin, Michael Foster, Lauren Frame, Rachel Fugaj, Christopher Fultz, Codi Furjanic, Evan Garza-Kibuyaga, Erick Gavin, Christopher Gayton, Donald Gayton, Maximillian Ghezzi, Michael Glenn, Benjamin Goalabre', Lauren Godfryd, Monica Gonzalez, Victoria Gonzalez, Patricia Gornick, DeAngelo Green, Paige June Green, Rachel Greenebaum, Paula Gregory, Bianca Griffin, Robert Grossi, Austin Guaccio, Ian Gurley, John Hanauer, Ametrice Hardison, Jade Harris, Magan Harris, Randall Harris, Ally Hayes, Patrick Healy IV, Ongela Helm, Joseph Hess, Kimberly Hilger, Nicholas Hlebasko, Mia Hobson, Alec Holmes, Sarah Hon, Michelle Hroma, Stephen Hudson, Adam Hutchison, Kirsten Iggins, James Jackson III, Dominic Jackson, James Jackson, Kalyn Jacobs, Ashley Janus, Katherine Jarzombek, Harold Johnson III, Amber Johnson, Joseph Johnson, Lauren Johnson, Samantha Johnson, Marielle Jones, Mikah Jones.
Emily Joria, Lindsay Kaminski, Kimberly Karlin, Michael Karwoski, Jessica Kekeis, Angelina Kelly, Jon Kelly, Lauren King, Taara King, Samuel Kirschenheiter, Emily Kobel, Evan Kordys, Stefan Christop Kremmidas, Mark Kristl, Hannah Krydynski, Thadeus Kryszyn, William Kuemmeth, Cody Kupiainen, Brianna Kwasek, James Lamb, Neil Lancaster, Jamie Laski, Theodore Leonas III, Abigail Levy, Paige Little, Ashley Long, Frank Longo, Nicole Lustig, Elizabeth Lynch, Robert Lyons, Jordan Malizia, John Martello, Keegan Marz, Sarah Mason, Jessica Massey, Joshua Mayers, Matthew McCanna, MaryAnn McCarter, Erika McCarthy, Damani McClellan, Malik Jamal McCray, Adam McDevitt, Brittanie McDonald, Allison McDonnell, Megan McDonnell, Moira McDonough, Jeren McGhee, Megan McGovern, Brittany McKay, Ryan Meade, James Mendez, Tyler Mesko, Justine Meyer, Rebecca Mezzich, Tim Michels, Diamond Milliner, Anna Mitros, Michael Mohan, Richard Montoya, Kevin Moran, Kara Morrison, Maisha Morrison, Edward Moss, Diamond Murphy, Javar Murphy, Michelle Murphy, Steven Murphy, Marissa Nash, Jaclyn Nauracy, Elise Nethercott, Emily Nethercott, Chinna Newsome, Sarah Nowicki, Mollyanne Nunn.
Matthew O'Boyle, Kevin O'Donnell, Anne O'Shea, Alexander Obanor, Katherine Obbagy, Sarah Ochoa, Alyssa Ojeda, Chizom Okebugwu, Kourtney Oldenburg, Megan Olszak, Katherine Oost, Anna Opach, Nicholas Orbik, Elan Owens, Jarvis Owens, Jadea Page, John Pasquinelli, Jaime Patriarca, Hayley Pelock, Chester Peterson, Stefanie Petrone, John Phillips, Lauren Piattoni, Richard Pinto, Mariah Pittman, Rachel Pritza, Terrence Purcell, Taylor Radtke, Alexander Recupito, Ryan Reid, Zachary Reid, Dominic Renzetti, Megan Reynolds, Dominic Roche, Dennis Rogala, Alexander Rogers, Tyler Salley, Brea Sanders, Matthew Santschi, Krysta Schauer, Alexandria Scheetz, Erik Schimke, Hillary Schmidt, Daniel Schmidtke, Johnathan Schramm, Nicole Schumann, Alexandria Schwieger, Matthew Serba, Rodrigo Serna, Toni-Elizabeth Shelby, Tiffany Showalter, Raven Shull-Dunn, Jessica Siegert, Chester Sikora III, Aaron Simmons, Shavonna Simmons, Amber Simonton, Jasmine Simpson, Morgan Slaughter, Ashley Smith, Eric Smith, Sarah Smith, James Solorio, Brittany Spanos, James Stahl, Jade Stansbury, Jesse Steward Jr., Latiece Stewart, Martin Sullivan, Thomas Sullivan, Jennifer Szotek, Jamila Tabungar, Courtney Taylor.
Michael Thompson, Amanda Tiberi, Bradley Ton, Joseph Torres, Jacquelyn Trotier, Sarah Trump, Dominique Turner, Jeonycia Van Hook, Daniel Vargas, David Vaughn, Patrick Von Schaumburg, Amanda Waaso, Jori Walan, Meaghan Waldron, Joseph Walker, Markeshia Walker, Natalie Ward, Ayriel Warren, Christopher Watson, Katherine Watson, Brianna Wegrzyn, Megan Widstrand, Alec Williams, Taylor Williams, Jonathan Williamsen II, Brandon Wilson, Alexander Wolff, Kathryn Wolske, Sean Woods, Mariah Woodson, Diana Yates, Evan Young, Heather Young, Margaret Zagone, Mary Kate Zagotta, Melissa Zambrano, Cliff Zander, Dylan Zimmerman, Elizabeth Zubrenic.