2013 Marian Catholic Speech Team
Chicago Heights, IL-(ENEWSPF)- The Marian Catholic Speech Team finished in third place at the IHSA State Finals in Peoria on Saturday. Senior Tiffany Pia Lyander (Hazel Crest) won first place in Poetry Reading. After a successful season, winning first place at both the IHSA Regional tournament and IHSA Sectional tournament, the Marian Catholic Speech Team was proud to earn a third-place trophy at the State competition.
"I was pretty shocked when I heard my name announced," admitted Lyander, the humble state champion. "This year the entire team really came together as a unit.  The third-place win took every member of our team." Lyander is a dynamic member of the speech and theater department at Marian Catholic. The senior is looking forward to ending her high school fine arts career with the spring musical, Beauty and the Beast, where she will play Babette.
The final results at the state tournament for Marian include: Cooper Packard '14, Lansing, placed second in Special Occasion Speaking; Kyle Fitzgerald '13, Park Forest, and Regina Hoyles '14, Olympia Fields, placed third in Humorous Duet Acting; Michelle Caperelli '13, Chicago Heights, and Kyle Fitzgerald '13, Park Forest, placed fifth in Dramatic Duet Acting; Kyliah Thompson '14, Richton Park, placed fifth in Oratorical Declamation; and Jasmine Jackson '13, Country Club Hills, placed sixth in Informative Speaking.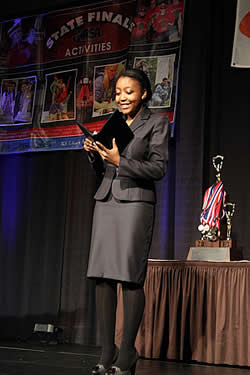 Tiffany Pia Lyander '13, Hazel Crest, Ill. (PHOTO SUPPLIED)
The 2013 state meet marked the 73rd annual edition of the state final and the fourth year that the Peoria Civic Center has hosted the event. For further information about the Marian Catholic Speech Team please contact Allison Smith, Public Relations Manager, at 708-756-9770 or [email protected].