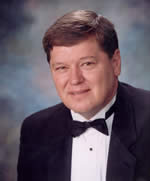 Chicago Heights, IL–(ENEWSPF)– The Archdiocese of Chicago Office of Catholic Schools has named Greg Bimm a "Distinguished Service Award" winner for 2010. Nominated by school administrators, 25 recipients were chosen from a potential pool of more than 5,300 educators in the 255 Catholic schools in Cook and Lake Counties. The awards recognize exceptional dedication, leadership and service of 10 or more years in Catholic education.
Bimm, the Marian Catholic director of bands since 1977, spearheaded the program's growth from 70 to over 250 members and has been one of many cornerstone individuals shaping Marian students as ethical, Christian leaders. Through his example, Bimm fostered the kind of community and shared responsibility with students that has become a hallmark of Marian Catholic High School.
Bimm does not emphasize winning. "It's a focus on recognizing each person's accomplishments, not 'beating' another school," he said. "It's about improving with each performance and knowing you've done your best."
National recognition and success has come to the band program, having won over 700 awards and honors. The Marian Catholic band is the only band in the country to have won seven national titles and have 27 consecutive years of being among the top twelve bands. They have won their class in the state championship 29 consecutive years.
The Marian Catholic Marching Spartans have participated in a Presidential Inaugural parade, the 2007 Macy's Thanksgiving Day Parade, and most recently as the only Illinois band to appear in the Tournament of Roses Parade on New Year's Day.
"I'm thrilled that Greg Bimm was selected as one of the first recipients of this Archdiocesan award," said Marian Catholic Principal, Sr. Kathleen Anne Tait, O.P.
"His dedicated service to Marian Catholic has touched thousands of students and greatly influenced the spirit and character of our school community. Few educators achieve national recognition in their area of service. Greg is generous to his colleagues in the field and respected by all. His love of music and passion for bringing forth student talent is unparalleled."
Specifically, the recipients of the "Distinguished Service Award" have demonstrated outstanding accomplishments; inspired students of all backgrounds and abilities to learn; have the respect and admiration of students, parents and colleagues; and possess the energy to sustain effectiveness in performing their roles.
Bimm is humbled by the recognition.
"To be chosen from among all the outstanding educators who work so diligently and selflessly for the schools in the Archdiocese of Chicago, is truly humbling. There are so many who have dedicated their lives and careers to Catholic education, this is an honor," he said.
Greg Bimm and other "Distinguished Service Award" winners will be recognized at a dinner on Sunday, February 21 at the Chicago Marriott on Michigan Avenue.