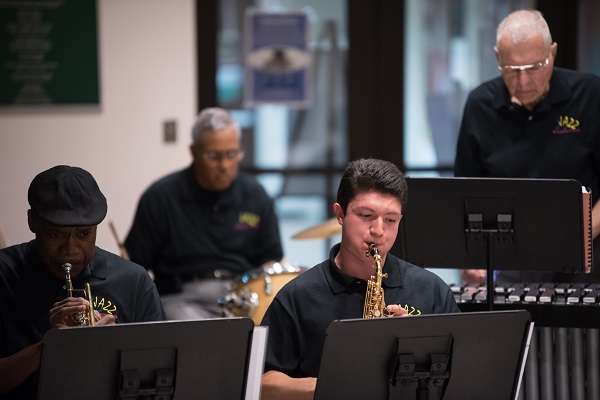 CHICAGO HEIGHTS—(ENEWSPF)—August 6, 2018
By: Prairie State College Media
Fall 2018 registration is open at Prairie State College (PSC), and the schedule brings exciting opportunities for musicians to join one of the various ensembles the college offers during the semester.
The Wind Ensemble, directed by music educator Phil Crews, performs significant concert band literature. Members of the ensemble include student musicians from the college and local high schools, community members and local music teachers and band directors. The ensemble meets on Mondays, September 10 through December 11, from 6:30 to 9:20 p.m., in room 105 of the K Building (K-105), located on the north side of Vollmer road across from the college's main campus at 202 S. Halsted St. in Chicago Heights. An audition for placement in the ensemble may be requested.
The Jazz Choir, directed by singer Toni Bell, provides experience in singing jazz and other related contemporary styles of music in a small choir. Improvisation and jazz vocal techniques are explored. The course will meet Mondays, August 21 through December 11, from 7 p.m. to 9:40 p.m., in room 3275 on the college's main campus. Prior experience in a jazz choir is not required, and there are no auditions to join this group.
Veteran jazz musician Eugene Vinyard will direct the Jazz Ensemble on Tuesdays, August 21 through December 11, from 7 to 9:40 p.m., in room K-105. The Jazz Ensemble is intended for intermediate to advanced musicians who want to develop their improvising and ensemble techniques. Several performances will be scheduled on the PSC campus and in the community. An audition for placement may be requested.
Rubén Alvarez, Chicago's premier Latin jazz percussionist, will lead the Latin Music Ensemble on Saturdays, from September 15 through December 12, from 10 a.m. to 12:50 p.m., in K-105. This ensemble explores a variety of styles of Afro Cuban jazz. Students will be introduced to the foundational rhythms and performance techniques of various percussion instruments and learn about the cultural aspects of the music. Instrumentation also includes those with prior experience playing horns, bass, guitar and piano.
"There's nothing that brings people together like music does," said PSC Professor and Coordinator of the Music Program at PSC Valerie Nicholson. "If you're looking for a community of musicians to get involved with, the Prairie State College music ensembles are the way to go."
Musicians taking the course for credit will pay tuition for one credit hour. Musicians not interested in receiving credit for participating will pay a $25 course fee.
For questions about any of the ensembles, contact Elighie Wilson, dean of liberal arts at [email protected].
Source: www.prairiestate.edu