CHICAGO HEIGHTS–(ENEWSPF)–April 7, 2014. Prairie State College (PSC) art student Olivia Willoughby has always been interested in pursuing a career in art. However, it wasn't until she had been in college for a couple years studying journalism that she realized how strong her passion was.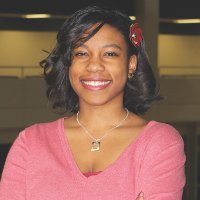 The Homewood-Flossmoor High School graduate distinctly remembers the first time she realized her love of art.
"In kindergarten, like most kids my age, I was really into [the animated cartoon] "Pokemon," she said. "One day there was a picture of the character Raichu on the cover of a newspaper. My dad took a piece of paper and drew it, and it made me want to start drawing."
Ironically, it was Willoughby's parents who initially were reluctant to support her creativity and desire to go to school to study graphic design, and it was under their guidance that she started studying journalism during her first two years of college at Northern Illinois University. And, she admits that her ultimate career goal still falls under the journalism category, but not necessarily in the way her parents envisioned.
"I had to convince my parents to be okay with me pursuing a career in graphic design," she said. But, her successes in school since she refocused her attention on the artistic side of journalism have made her parents proud.
Most recently, her work was highlighted through a mixed media piece using freehand drawing and graphic elements on the front and back cover of the PSC summer schedule. She says the design took her approximately 120 hours to complete, but that it was worth it for all the experience she gained in the process. The schedule is distributed throughout the PSC district, and it includes a biography and design credit for her work.
"I've never done anything like this before, and a lot of research went into this project," she said. "I told myself, if I wanted to do this as a professional, I really needed to take the time to look at what were the real elements of summer," she added.
"One of the things I like about art is that it's okay to take time to work on things. I took my time on this project, and I am very proud of myself."
The schedule cover is not the only experience Willoughby is gaining while she is studying at PSC. Willoughby is art director, layout editor, and artist for the cartoon/comic section of The Student Review, PSC's student-run newspaper.
While Willoughby had some experience in newspaper layout in high school, it wasn't until she went to college that she really got some hands-on experience with layout and cartooning for newspapers.
"What I'm doing at the paper is 100 percent what I want to do as a professional career," she said. "My experience on The Student Review and working with others on a team shows me that art is not something I have to do by myself," she said. "Working with a team gives real life experience with conflict, and I've learned that as long as you respect each others' opinions, it is alright to disagree."
Willoughby says her experiences at PSC have helped her in many ways on her path to a career.
"I've grown a lot since I started here," she said. "I've had lots of practice and hands-on experience that teach me what elements work and don't work."
Willoughby plans to complete her general education and introductory art classes at PSC before transferring back to Northern Illinois University to finish her degree in graphic design. She hopes to graduate in 2015. She ultimately would like to work for a magazine after graduation.
"As long as I'm doing page design or cartooning, I will be happy in my career," she said.
Source: prairiestate.edu