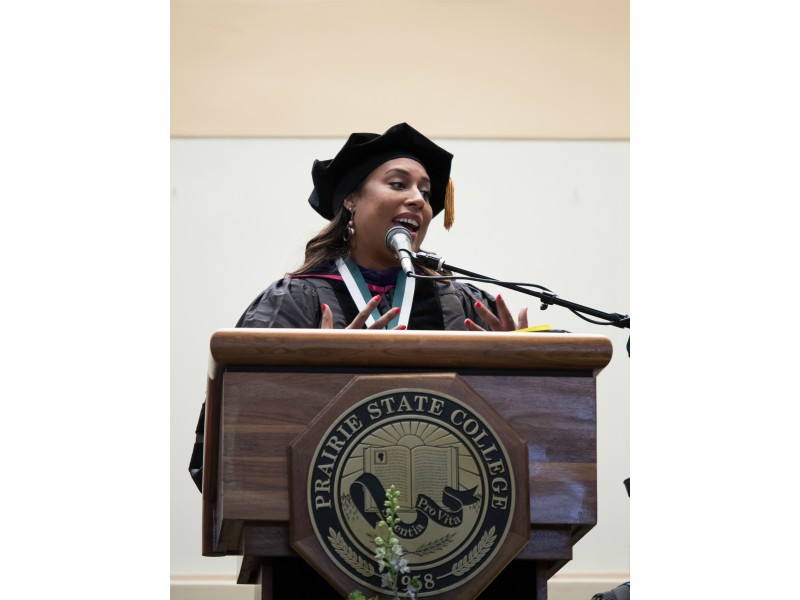 CHICAGO HEIGHTS–(ENEWSPF)–May 21, 2015. Cheers and loud applause was the response to an inspiring commencement speech given by Senator Toi Hutchinson at Prairie State College's (PSC) 56th Annual Commencement Ceremony held Saturday, May 16, 2015 at 11 a.m. at the Pioneer Fieldhouse. With a packed crowd of graduates and family members, Hutchinson made it clear she knew how hard the graduates worked to get there.
"You made it here when your car didn't work. You made it here when your work interfered. You made it here when your childcare fell through. You decided to make it here," Hutchinson said. "This is different than those kids whose parents wrote a check and sent them off to college. You did this in the midst of your regular, everyday life."
Recognizing that many community college graduates take a different path to college, often going part time, working full time, and juggling family responsibilities, Hutchinson had the crowd applauding as she compared her story to their story.
"I am so honored to share this day with you. I was not a traditional student. I was in law school with three children under 11, and driving two hours each way to get there. It was long, it was hard, and it was worth every single minute," she said.
Sharing with the audience how sometimes others doubted her, she never doubted herself. "No one was going to tell me that I can't do this. Someone in her first year told her that maybe law school wasn't for her. She sat next to that person on the stage during her graduation from law school. "I gave him a big hug and said that law school was definitely for me," Hutchinson said.
Telling the audience that "no one will invest in you if you don't invest in yourself," she encouraged them to continue to that next step. "You get to decide this story called your life. You get to write the next chapter."
During the ceremony, PSC President Dr. Terri Winfree presented Senator Hutchinson with an honorary associate in arts degree. "I was thrilled to present an honorary degree to Senator Hutchinson. It was a privilege to have her give the commencement speech to our graduates," Winfree said.
More than 450 students graduated from PSC with associate degrees and certificates, and more than 300 graduates participated in the ceremony.
Source: www.prairiestate.edu