CHICAGO HEIGHTS–(ENEWSPF)–January 16, 2015. The third time is definitely the charm for DaQuawn Bruce and his dream of attending Carthage College. Next month, he is transferring to Carthage from Prairie State College (PSC) to pursue his bachelor's degree on a full academic scholarship, worth approximately $37,000 per year. According to Mr. Bruce, his three semesters at PSC are what paved the way for that scholarship.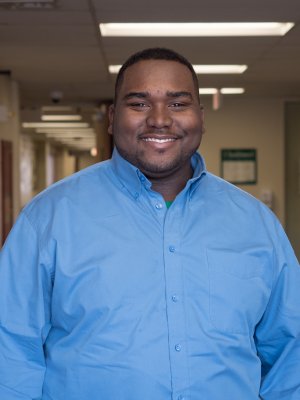 Mr. Bruce applied and was accepted to Carthage College, located in Kenosha, Wisc., not once, but twice  – in 2012, and then again in 2013. Due to the cost, he put that dream on hold and decided to attend PSC. Then, during the fall 2014 semester at PSC, he attended the annual transfer fair. He re-connected with the Carthage admissions representative, who encouraged him to contact the school again. They not only accepted him, but also had him apply for a full-tuition scholarship. He was awarded that scholarship and is headed to Carthage and his dream of double majoring in French and political science.
"The scholarship interview was in-person, and my experience on PSC's speech team definitely helped me during the interview. The essay was about ways your college education has been valuable to you, and I had a lot to say about that after my time here at PSC," Mr. Bruce said. "The speech team experience has been invaluable to me. It helped me do well in the interview."
Some students might have chosen to simply attend classes and not get involved in student life, since a transfer was in their future, but that was not the case with Mr. Bruce. "I had competed on my high school speech team so I decided to continue that activity while attending PSC."
The PSC speech team coaches had judged Mr. Bruce during high school competitions, so they already were familiar with his talent as a speech team competitor.
"We were very excited to learn Mr. Bruce was headed our way. We are in contact with the high school speech team coaches, and they let us know who is coming to PSC. When we found out that Mr. Bruce was attending PSC, we were thrilled to have him on the team," said Dr. David Naze, interim dean and one of the speech team coaches.
The benefits of the speech team were more than learning how to compete and speak in public. "I had a lisp and sometimes I didn't prioritize things well. Being on the speech team, I learned how to control my lisp, how to prioritize, and how to meet new people. I built character and integrity during my three semesters of competition," he said.
To pay for his PSC tuition, Mr. Bruce participated in the Chicagoland Regional College Program (CRCP) through UPS. The CRCP offers up to $5,000 in tuition assistance, a part-time job at UPS in Hodgkins, Ill., a $100 monthly transportation allowance and a monthly bonus to help college students avoid loan debt.  But those benefits come at a cost – Mr. Bruce had to work nights, five days a week, from 2 to 9 a.m. and then go directly to class after getting off work. Mr. Bruce is weighing the idea of continuing to work for UPS when he transfers to Carthage.
Other PSC staff and faculty assisted Mr. Bruce while he was at PSC. "Sean Smith helped me find out about the CRCP opportunity, and Assistant Professor of Nursing Tina Parks was my mentor," he said.
When asked why he chose Carthage, he says it is their French program.
"I started learning French when I was nine, and I taught myself. It is what I want to major in and they have a great program," he said. 
There is no doubt in anyone's mind who knows Mr. Bruce – his successful college experience will continue in his new environment.
Source: www.prairiestate.edu