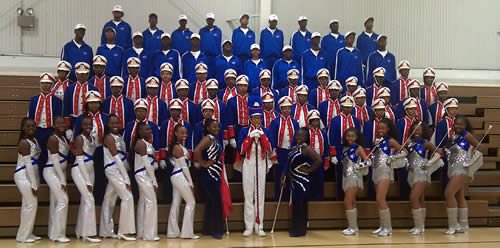 The Rich South Marching Band. (PHOTO SUPPLIED)
Band will perform in Festivities around the 2012 Olympics
RICHTON PARK, IL-(ENEWSPF)- The Rich South High School marching band is hosting a Dance-A-Thon from Friday, April 27  to Sunday, April 29 as part of fundraising efforts for its upcoming trip to London, where they have been invited to participate in festivities surrounding the 2012 Summer Olympic Games. The event is just one of many planned as part of  the band's Olympic Dreams Campaign, scheduled from  July 26 to August 1.
The Rich South Marching Band is no stranger to showcasing its talents before distinguished audiences. Last year, the band was invited to perform at the welcoming ceremony for President Hu Jintao of China. Just recently they participated in the New Year's Eve 'Chick-fil-A Bowl' parade in Atlanta, Georgia, and they have participated in the annual Bud Billiken Parade over the past few years. This trip to London is a once in a lifetime opportunity for the band, and they are hoping to raise at least $75,000 during the fundraiser.
Yolandus Douglas, band director for Rich South, sees the Jam-A-Thon as a great way to get people together to have fun and support a great cause.  He said band members, booster club members, and parents will call on family and friends, alumni, businesses, politicians, and others in Illinois and throughout the country to support their efforts.  Their ultimate hope is to get the attention of a major corporation or celebrity who would be willing to provide financial support.
"I just see this as a huge celebration by the community with people coming out in large numbers in support of the band," he said. "We will have music that appeals to everyone, such as R&B, house music, old school, and even a steppers set. The band is looking forward to getting the participation of local radio stations to promote and get people to come out in support of our young students."
The Dance-A-Thon will go for 36 hours – starting at 7pm on Friday, April 27 and ending at 7am Sunday, April 29. Pledges will be accepted based on the number of hours a student dances. Participants can pay at the door or pledges can be made in advance. Supporters can also visit the band's website (add site) to learn more about ways to support the students in their quest. 
"It's a win-win for everyone with some of Chicago's top radio deejays giving their time and support, and the community coming to party with the band," Douglas said.
Rich South students Demetrius Johnson and Danielle Greenhill say they are extremely excited about the possibility of traveling to Europe, and are willing to work as hard as necessary to make it happen.
Greenhill, 18, plays the French horn and has been in the band her entire high school career.  She says that her family and friends are doing whatever they can to help her make it to London, as this would be her first ever trip abroad.
"London will be a completely overwhelming experience," she said. "I have never been overseas before. My family and friends are willing to jump through hoops to get me there. I can't fathom how much this will mean to me. "
Johnson, 16, is equally enthusiastic.
"It feels beautiful," he said. "I have goose bumps. My fingers are tingling! I have never participated in a dance-a-thon, but I know it will take a lot of energy, a lot of food, a lot of bathroom breaks and a lot of prayer to survive for 36 hours."
In spite of all of the work necessary to make this happen, Johnson has no doubt that the band will reach its goal, as long as they each play their part in engaging the community and spreading the word to everyone they can to draw attention to their mission.
"I know we are going to make it," he said.
The Jam-A-Thon will take place at Rich South High School's main gymnasium at 5000 Sauk Trail in Richton Park, IL 60471. A $10 donation will be required for entry at the door. This is an event for Students and Adults Curfew is 11pm for students and will be strictly enforced. Adults 21 years of age and older ONLY Set between 12am and 7am. More information is available on the Rich South band's website at www.richsouthband.org.